This post may contain affiliate links, which means I'll receive a commission if you purchase through my link, at no extra cost to you. Please read full disclosure here
Spooky season is here! And it's time for your nails to get mysterious with some spooky Halloween nail ideas and your Halloween fashion ready to create rave on TikTok and Instagram. (Okay, I'm getting too excited).
Halloween is a fun Holiday and one of my favorites because it allows you to go creative and try funky, funny fashion styles and costumes you can't wear around regularly.
And as an obsessed nail lover, it's time to get creative and shine through with Halloween nail colors for our spooky Halloween nail designs.
Whether you want to keep it simple and elegant with solid Halloween nail colors like orange, deep wine, or dark gel manicure
You may be feeling a little extra and need some daring 3D Halloween nail ideas like spider charms, flying bats, creating miniature tombstones out of acrylics, and scary pumpkins to match your spooky costume.
Maybe you don't want to go with the traditional scary Halloween vibe and want to keep it chic and simple— Halloween nails like glamorous glitter nails, French ghosties, or bloody French tips.
Since you plan to stay home and need some Halloween nails for the gram, that's okay.
With Halloween nail ideas, you can always have options, and this is so exciting for a nail-obsessed lover like me who uses every holiday as an excuse to try new, fun, creative nail designs.
Whether you're planning to attend a haunted house or want to show off your spooky Halloween nails on Instagram, we've got some of the best Halloween nail ideas that will make your nails the center of attraction.
Spooky and Classy Halloween Nails
1. Ghost and Bat BIAB Nails
Halloween nails tend to be a little louder than other special-occasion manicures. They include plenty of adorable nail art features, like the cute white polish ghosts and black polish bats above.
So, if you want to go minimalistic but fun while keeping things simple, consider a blush undercoat as your own personal miracle worker.
It creates a natural-looking and clear canvas for you to work off of and really makes any playful addition clash and pop for a striking effect that's not too complicated and just the right amount of chic.
2. Just Halloween Vibes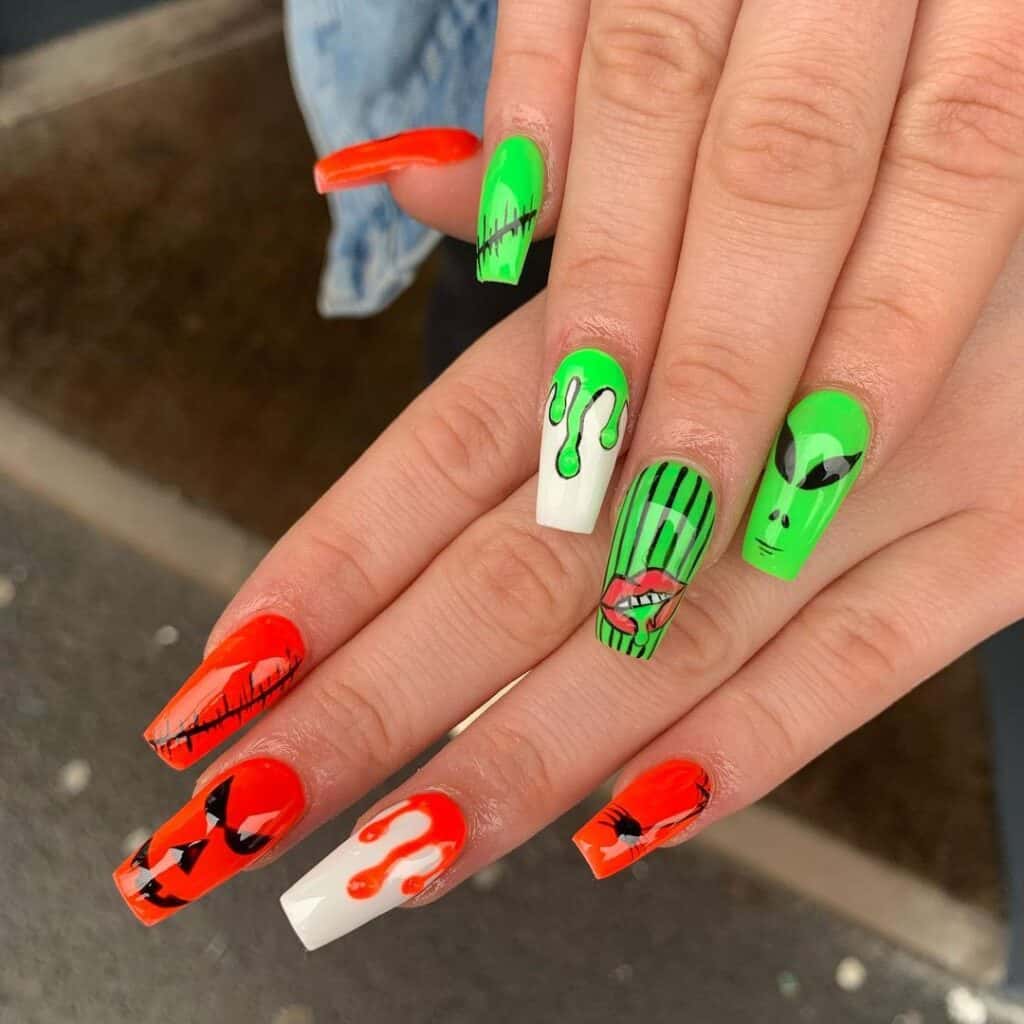 If you want to go all out and have personality splashed across your nails, these are the vibrant, cartoonish nails that are the answer to all of your desires.
They're so grunge-chic and creative and definitely funky, making them one of the loudest and eye-catching Spooky Halloween nails on the list.
Plus, the more heavy-handed you go on the polish, the better. You don't even have to stay within the lines of being perfect because this look is all about being bold.
3. Spooky Pumpkin Nails
Taking some cheesy and playful Halloween favorites and turning them elegant-chic is as simple as choosing a long, square nail with sharp edges and neat cuticles.
From there, you just have to make sure to keep all your lines straight and strong as you work on some of this year's hottest nail trends.
The swirls and pumpkin tip are particularly popular nails, but the split nail is entirely one-of-a-kind and adds a distinct edge to the Halloween manicure that we're here for.
4. Pink Based Pumpkin Nails
Who says cute and girly can't go hand in hand in hand with the Halloween theme? If you have naturally long nails, then all the better.
If not, these nails are worth getting a fake nail base for. Of course, you can draw the adorably spooky nail art on yourself, or you could take these to your nail tech, who'll certainly give them a sharp edge and have plenty of fun working on such a cute design.
5. Violet Spider Nails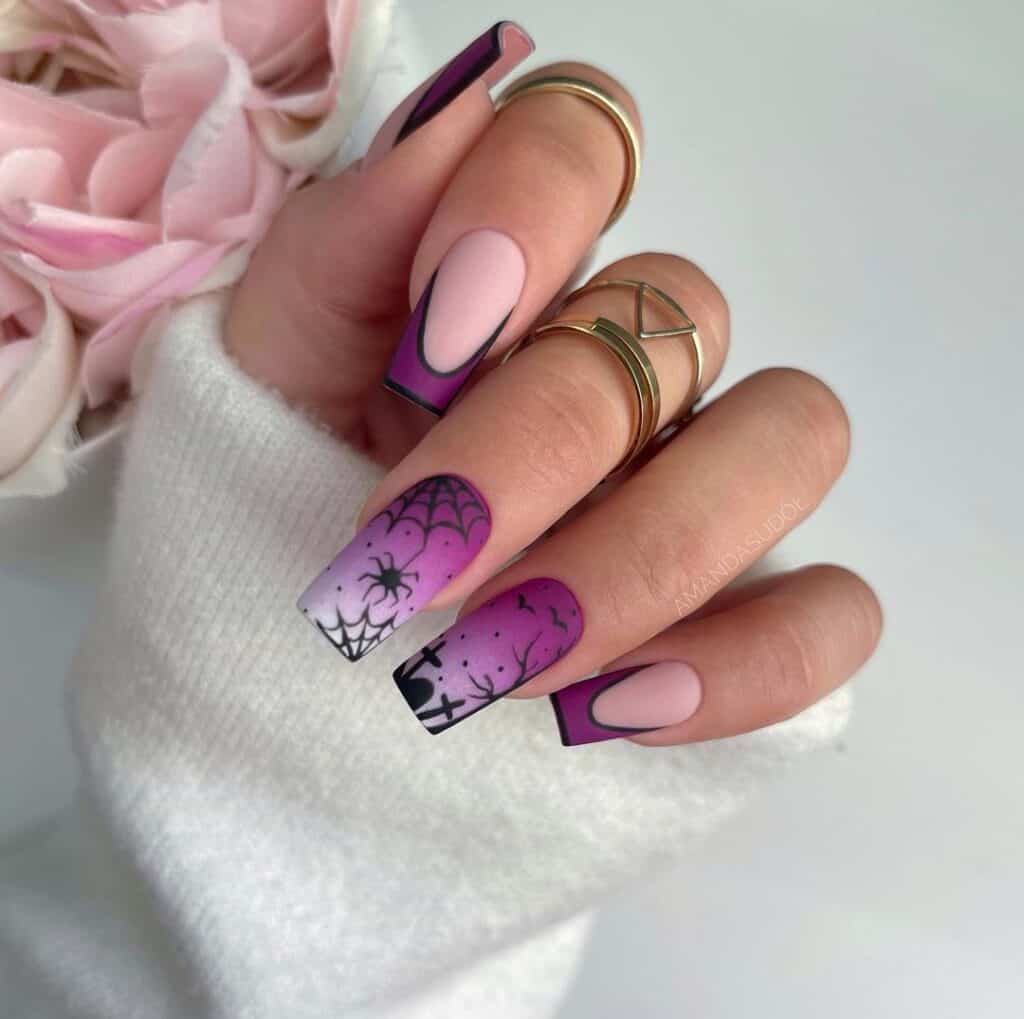 I love the dark and somber vibes of these nails. They look like a gorgeous dark night and even include all of the gothic Halloween classics.
Preventing the nails from leaning entirely into the gloomy theme is the purple nail polish that adds warmth, while the dramatic and long-edged tips keep things chic.
The matte effect is essential to these nails, and don't forget to go light on the nail polish while combining the white and purple shades through the smudge technique that creates a misty effect.
6. Zombie Halloween Nails
Ghoulish and fun, these Halloween nails are perfect for letting your wild side show this spooky season.
They're so over-the-top and super surreal with a comical edge.
I just love how nerdy and quirky they are, and somehow, they've done it all in perfect pastel that gives even the most dramatic nails a chic undertone that I really love.
7. Halloween Pick and Mix Nails
There's so much going on with these nails, yet somehow, it still manages to look completely under control and even quite symmetrical.
That's why, when it comes to these stunning nails, I can't recommend following the above picture brush stroke for brush stroke with every shimmery diamond placed right where it should be.
That way, the nails stay Instagram-worthy at every angle and will never slip from calculatedly intricate into complicated territory.
8. Classy Boo Nails
This is one for the girlies who want to acknowledge Halloween in style without having to even dip into an orange nail polish bottle.
Instead, it's all soft, chic, and sophisticated with this manicure that would look as gorgeous and striking on Halloween as it would on any other day of the year.
The long oval dimensions are absolutely essential to evoking that heavenly look that's a trademark of this Halloween nail design.
Be sure to use a toothpick to apply to adorable ghost eyes.
9. The Boys of Fall Halloween Nail Art
You might be tempted to skip these breathtakingly ghoulish and intricate nails at first glance because they look like a work of art that would need a trained artist to recreate.
Truthfully, they are, but your nail tech is exactly the nail genius you're looking for, and I'm sure they'd be more than up for the challenge, especially when it comes to a look that's so incredible that they're sure to share it on their socials.
10. Dreamy BB Ghosts Nails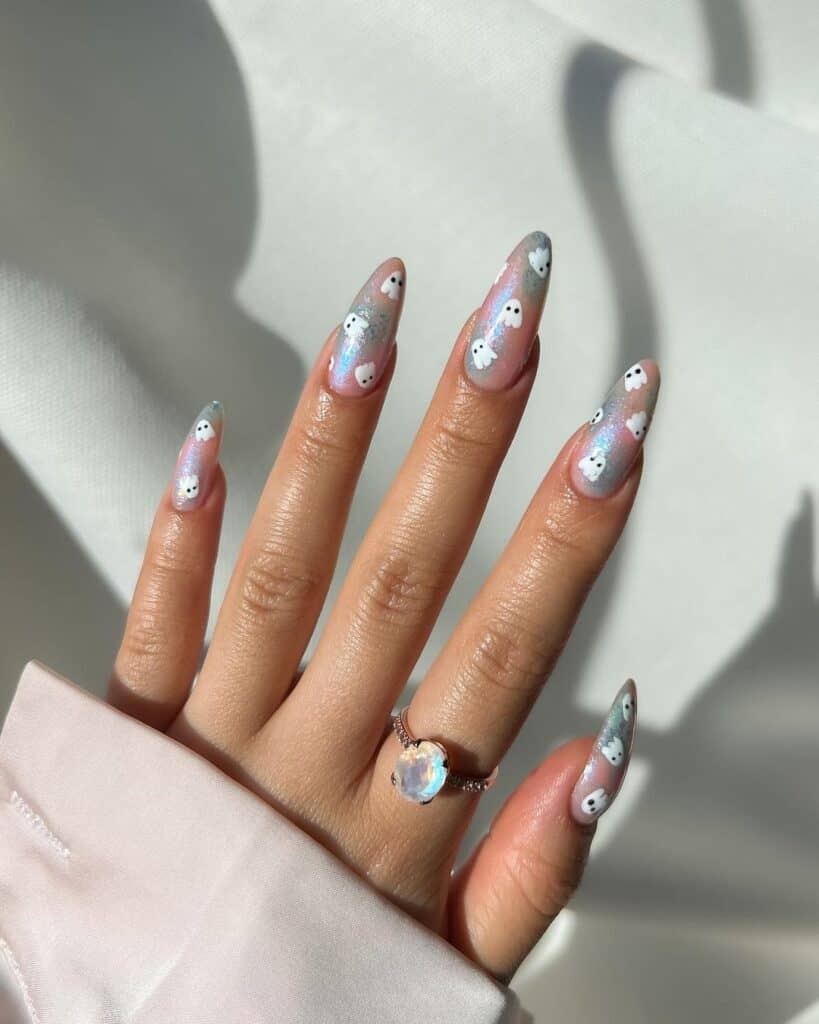 I just love Halloween nails that don't even use the classic seasonal colors. Instead, they dare to look bubble gum soft and shimmery in the softest and girly colors around.
So, if you don't own orange nail polish, don't worry. Light blue and pink are more than enough to create beauty, and a shimmery coat on top just makes it all pop.
The adorable ghosts can be brought to life using a toothpick as a brush.
When you're done, be sure to take loads of photos because I want to see more of these beauties this year.
11. Blood Drops Matte Nails
I love how daring and fearless these nails are. They've also got a lovely experimental edge to them that ensures you'll be the only one with these nails this Halloween season.
Plus, since we all have white and red nail polish, they're one of the most practical looks on the list.
In fact, you don't even need white polish with the red smudge blood effect looking just as good on natural nails.
Just be sure to keep them long and file them into a sharp, oval shape for dramatic effect.
12. Pumpkin Halloween French Tip Nails
Funky and groovy vibes are written all over these nails that pack all of this year's trends into one adorable manicure.
They're unmistakably Halloween nails but without the gothic vibes. Instead, they're quite playful and even light-hearted if you're on a more light-hearted wavelength this Halloween.
13. Jack Skellington Nails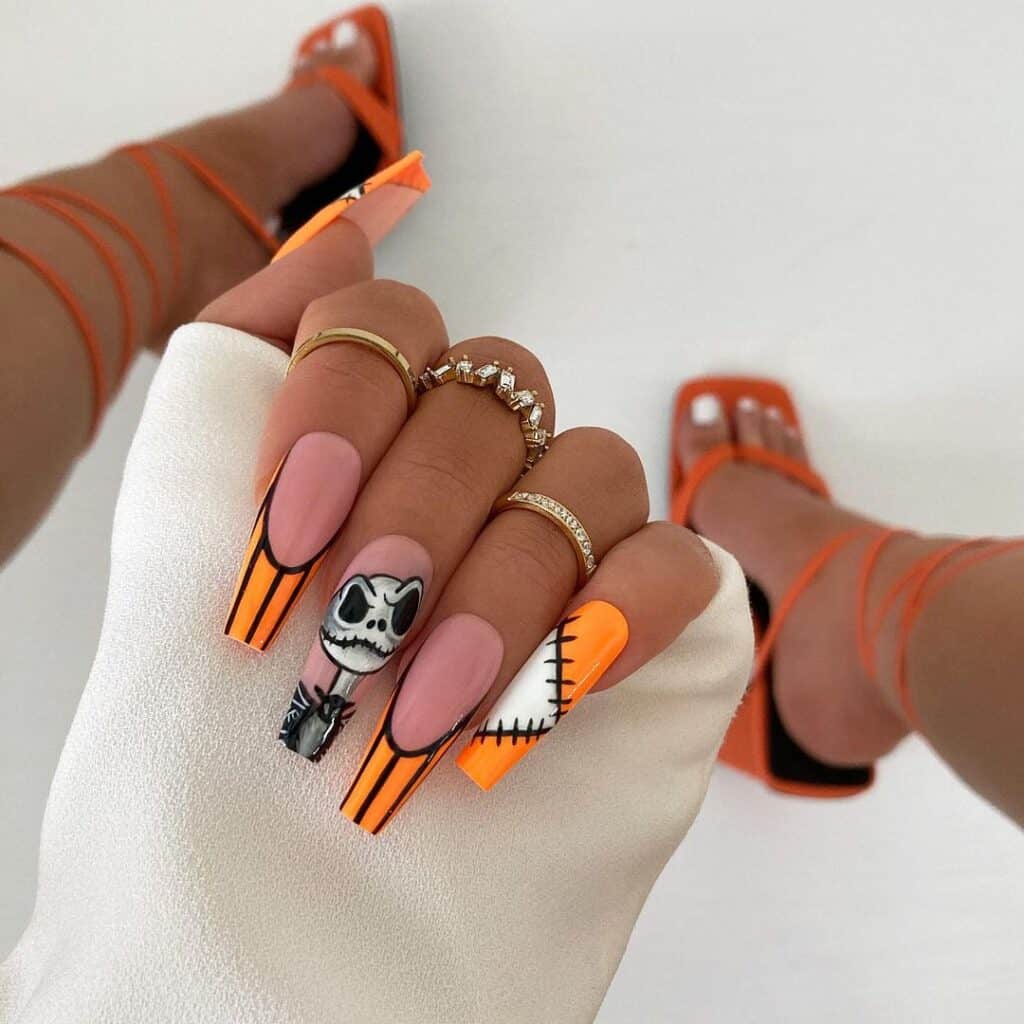 These nails are dramatic, over-the-top, eye-catching, and they know what they're about. Strong lines create attitude, and the rebel skeleton is here for it.
If you're feeling fearless and courageous this year and want your nails to reflect your vibrant vibes in person and all over your socials, then this is THE look for you.
14. Maneater Halloween Nail Design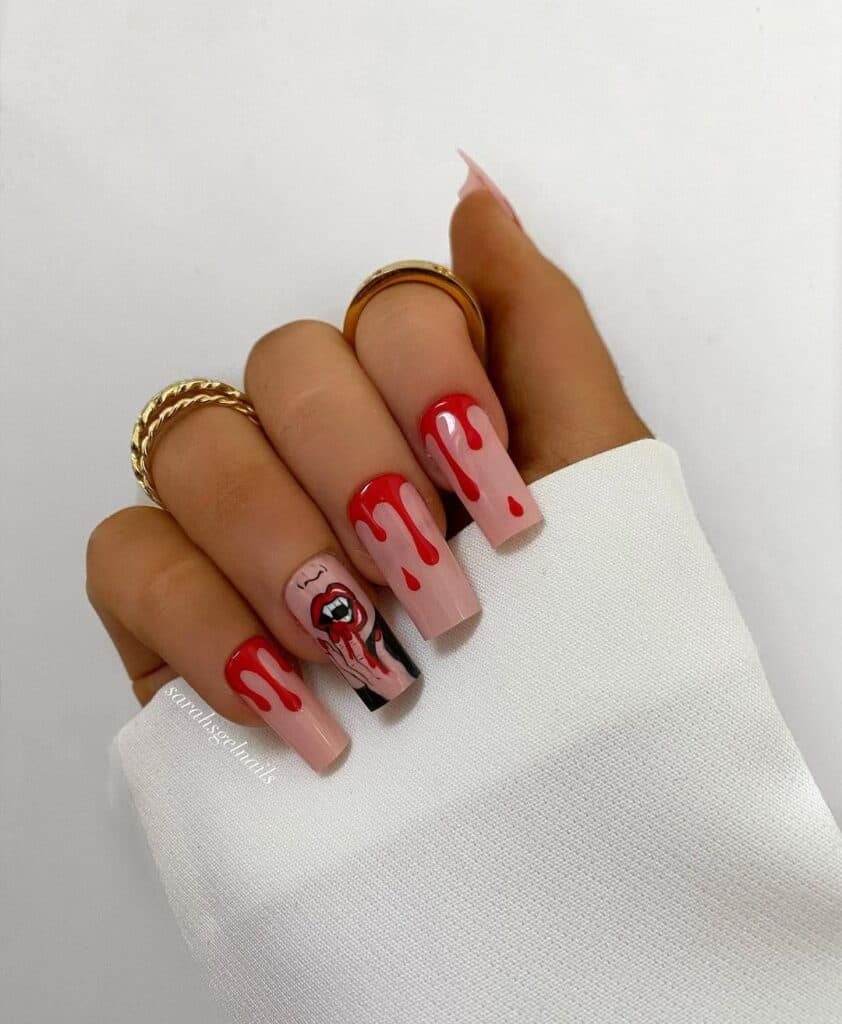 Think Halloween nails, but retro. There's a kind of Betty Boop and Moulin Rouge to these foxy nails that turn up the heat while keeping things cute.
While the blood drop nails could look as good in any nail shape, the long square dimension is crucial for the artsy accent nail.
That nail alone is the reason you might want to take these baddy beauties to your nail tech, and they're more than worth it.
15. Ghostface But Make It Nails
If you're cute but could also kill with a single look, then Halloween nail ideas are probably your thing, and you've likely just fallen head over heels with these adorable nails, just like I have.
The light pinks and spiderweb tips are just the stuff of desires and obsessions, and I seriously need to try them out.
16. Reklame Halloween Nail Idea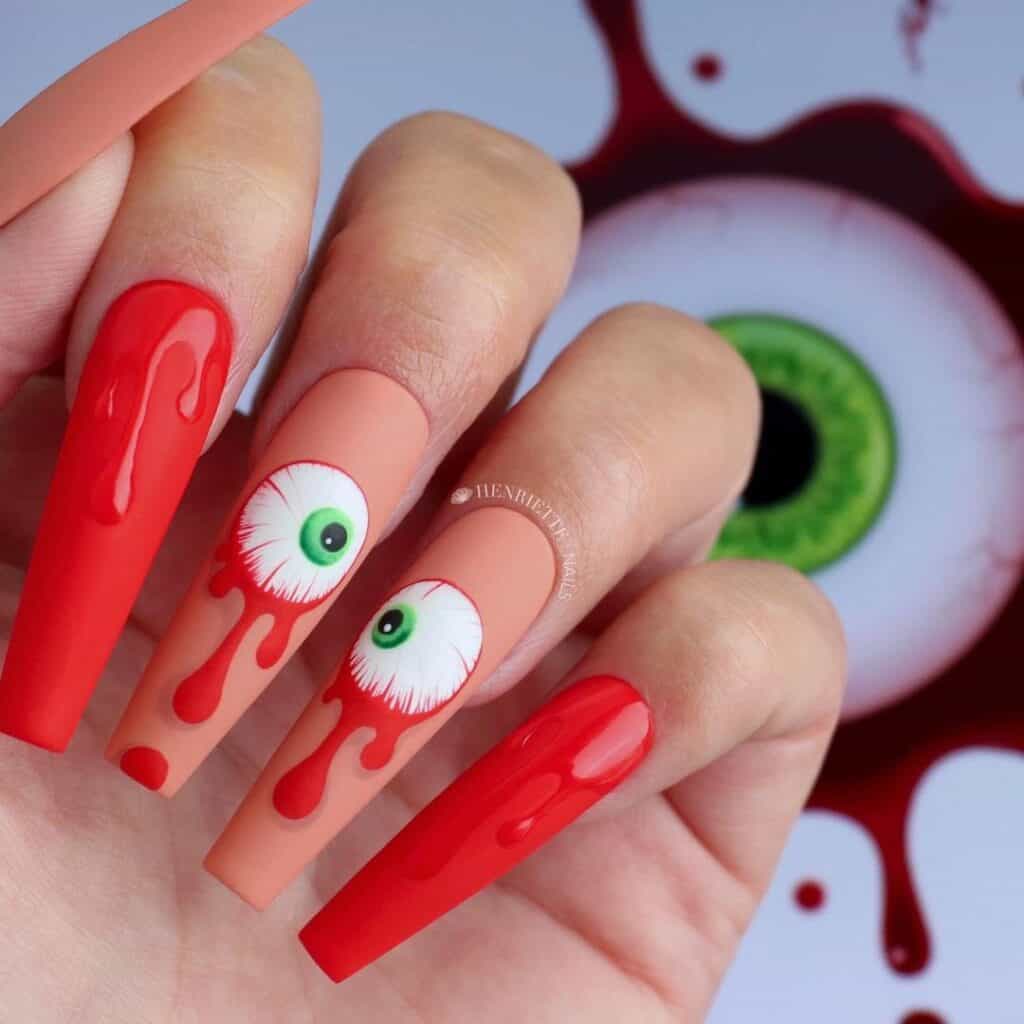 Like something straight off a comic book page, these nails pop, sizzle, and shock. So, if you're looking for nails that everyone is sure to comment on, these are them.
The striking eyes are almost beyond words, and they're so distinctly life-like that they almost look real life.
The key to achieving this look is striking, strong nail polish shades and loads of patience.
Failing that, take this work of art along to your nail tech and let them bring it to life.
17. Cute Simple Lil Creepy Spiders
Multi-colored tips and cute little nail art spiders are the stuff of fashionista dreams.
Adorable doesn't even cut it while describing these nails, and you'll seriously want to wear them all year long.
The soft oval shape is a must, and don't blame me if you don't want to take them off after Halloween. Just try them again without the spiders.
18. Screaming Nails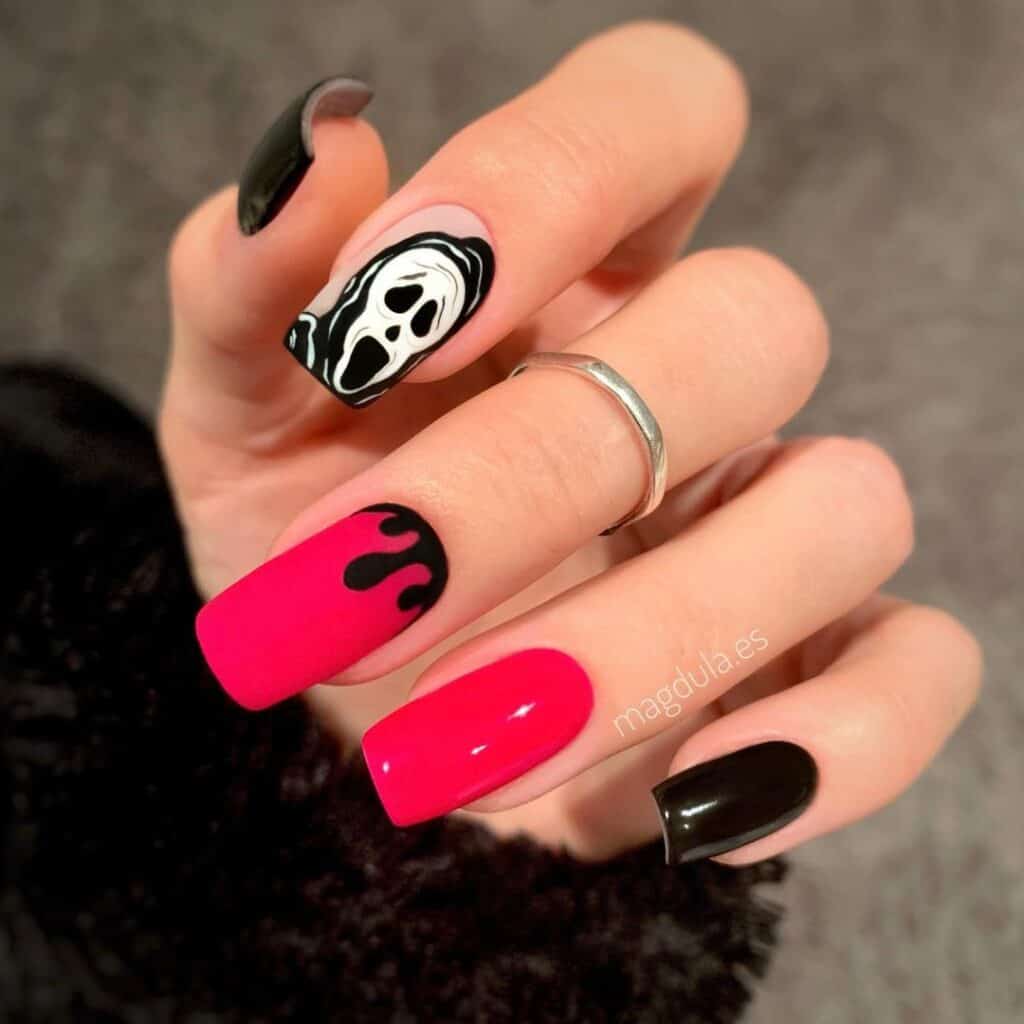 Mixing textures on nails is always a daring choice, and it usually pays off, especially around Halloween time, when drama is more than welcome.
So, get out the matter and glossy varnish. Or, let's be real, with such a complex striking nail, it might be best to head to the salon for this marvelous manicure.
19. A Very Disney Halloween Nail Ideas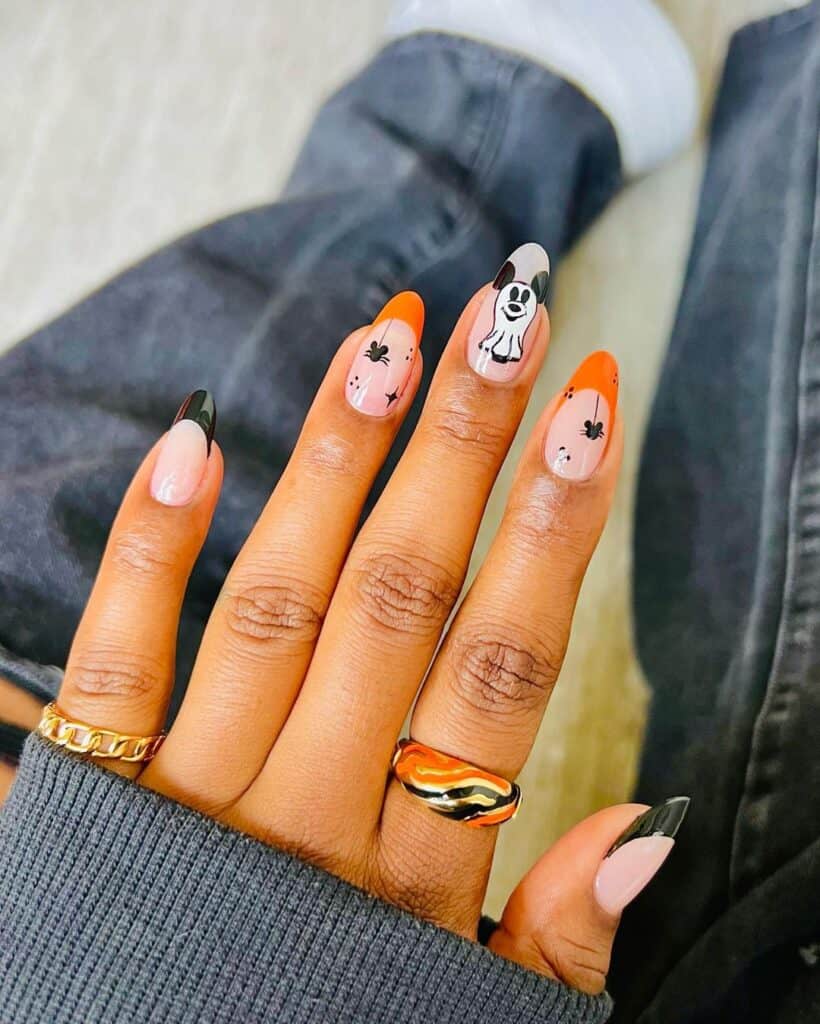 Halloween, but make it cute. Every little detail of this nail is turned adorable by adding a Disney flair.
Even the spiders are done in the fashion of Mickie or Minnie Mouse.
Plus, the black and orange tips are unmistakably Halloween-themed, so these nails are a must for the dreamers, princesses, and fairytale lovers among you.
20. Simple Skull Nails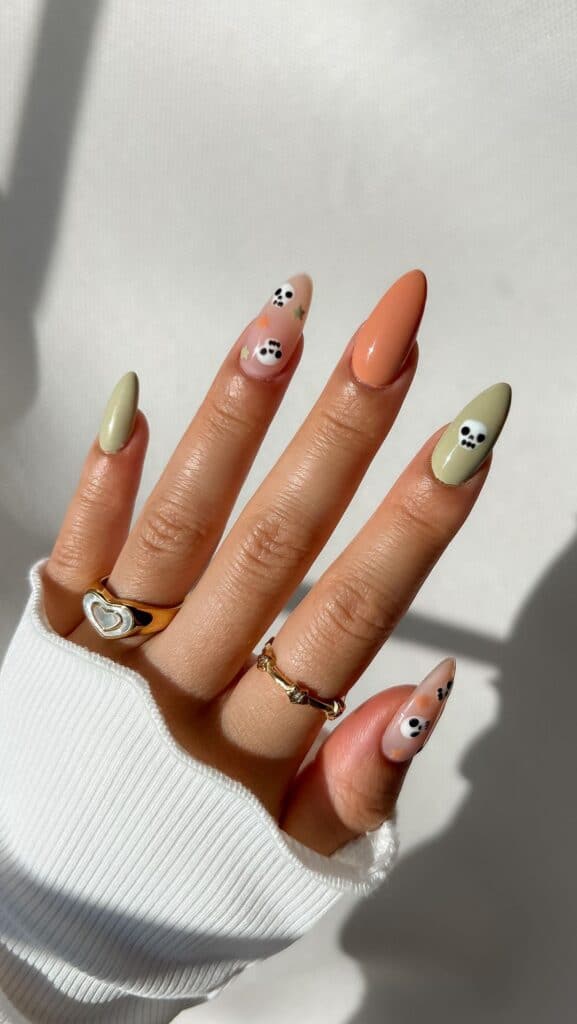 Yes, Spooky Halloween nails can look chic and cosmopolitan. They're quite haute-couture and look like they've just come straight out of a Vogue magazine.
The muted Halloween shades are such an interesting and lovely touch that softens the manicure, while the Halloween-themed nail art adds a fun and light-hearted twist.
21. A Little Halloween Mashup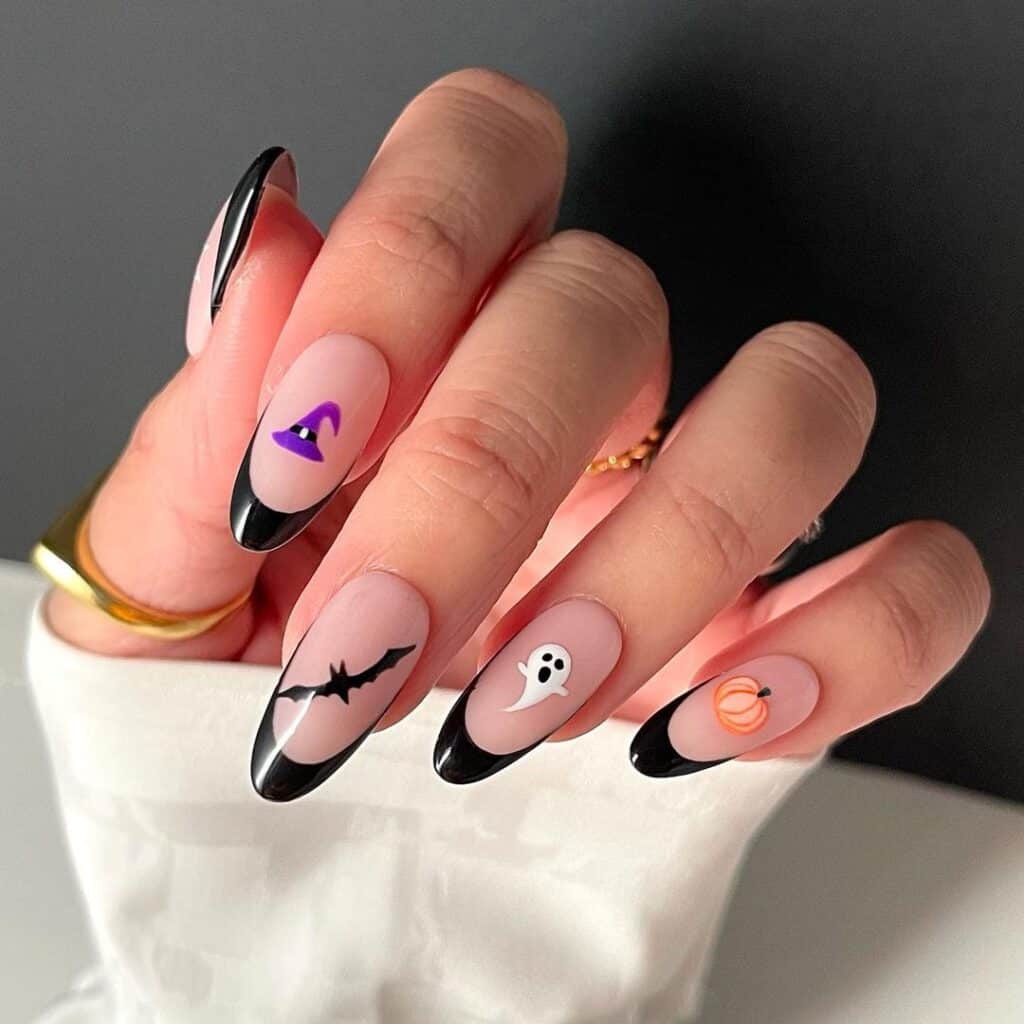 These nails are textbook Halloween. So, if you're wondering which nails to go for and don't have any time to waste, get started on these nails right away.
They tick all the trends boxes of the year alongside featuring the best of Halloween manicures.
They're reliable and gorgeous, and you won't have to think twice about them once they're perfected.
22. Acidic Halloween Nail Colors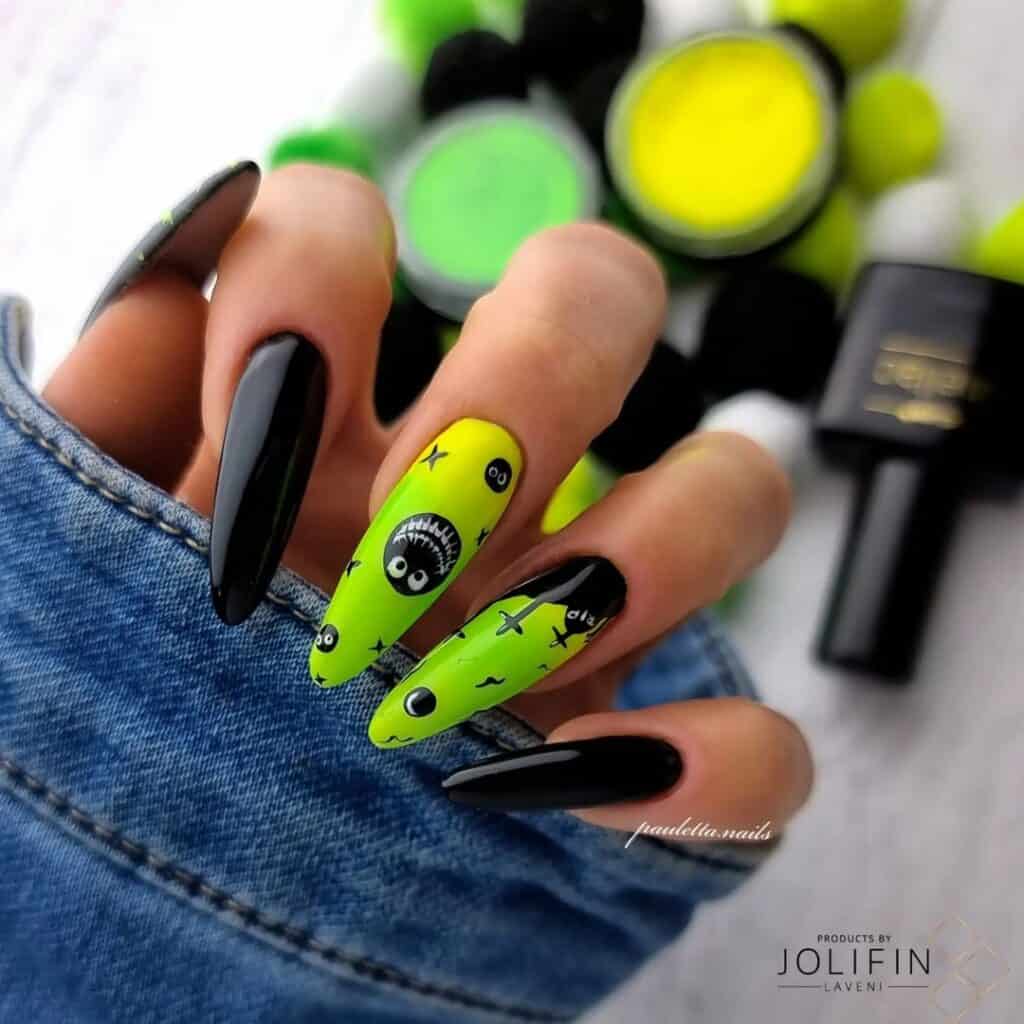 I have a special place in my heart for edgy Halloween nails. They usually feature the finest of neon nail shades alongside some ghoulish details and cartoonish art.
Keep your nails and file them sharp to really give these nails the kick they deserve and know how to give them.
23. Ultra Violet Long Square Halloween Nails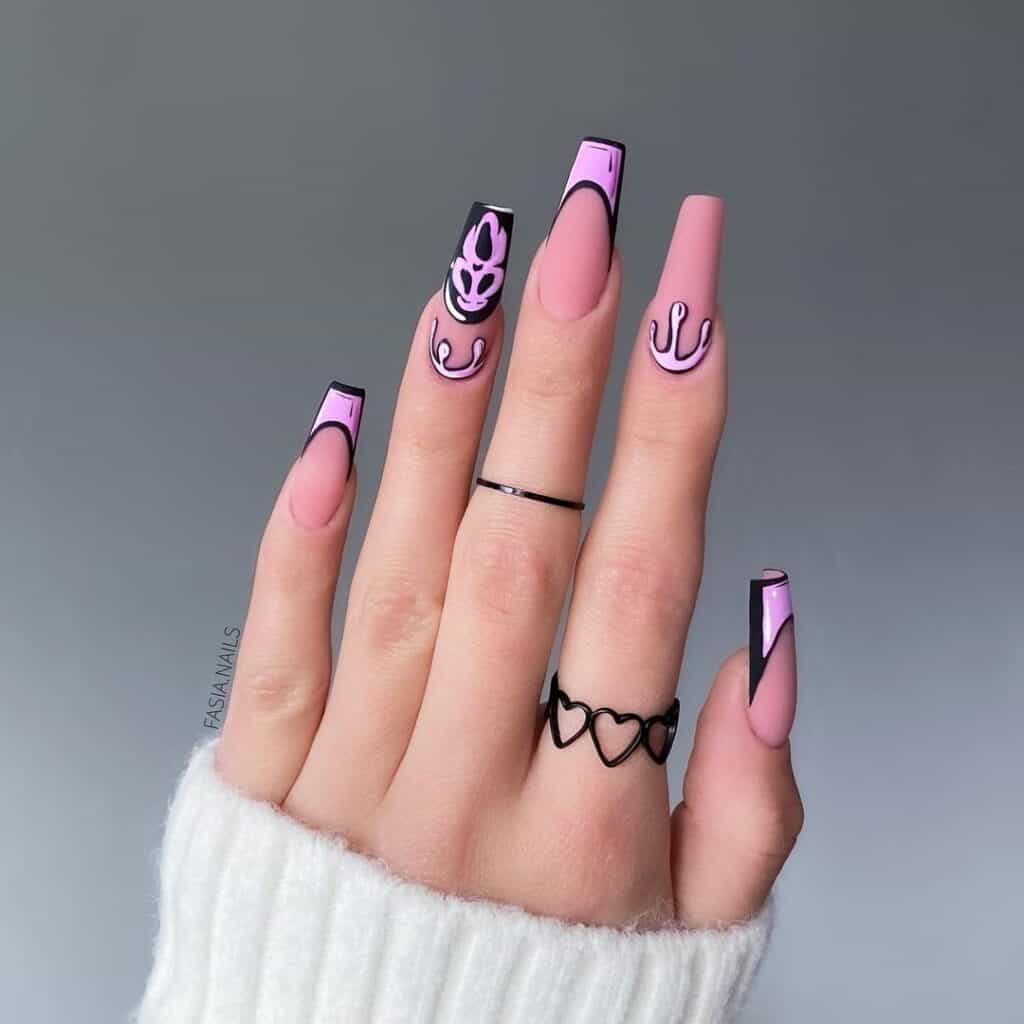 These nails barely look real. They're otherworldly and cartoonish and absolutely steeped in girly-chic vibes.
Seriously, it's like they've just come out of my dreams. Before you get started on these nails, take note of the shading effect and the blush effect.
You can get those two elements right.
The rest of the nails should come along like a piece of cake that they actually look like, just delicious.
24. Cute Pink Containing Spiders Nails
I have such a soft spot for Halloween nails that only feature the same spooky element across every nail.
Especially when they're set to a clear and neat backdrop that's made up of a glossy blush base.
I just need to mention that these nails don't strictly need to be oval, and the mood of the manicure can be changed easily by switching up your nail shape.
25. Lilac Little Ghosts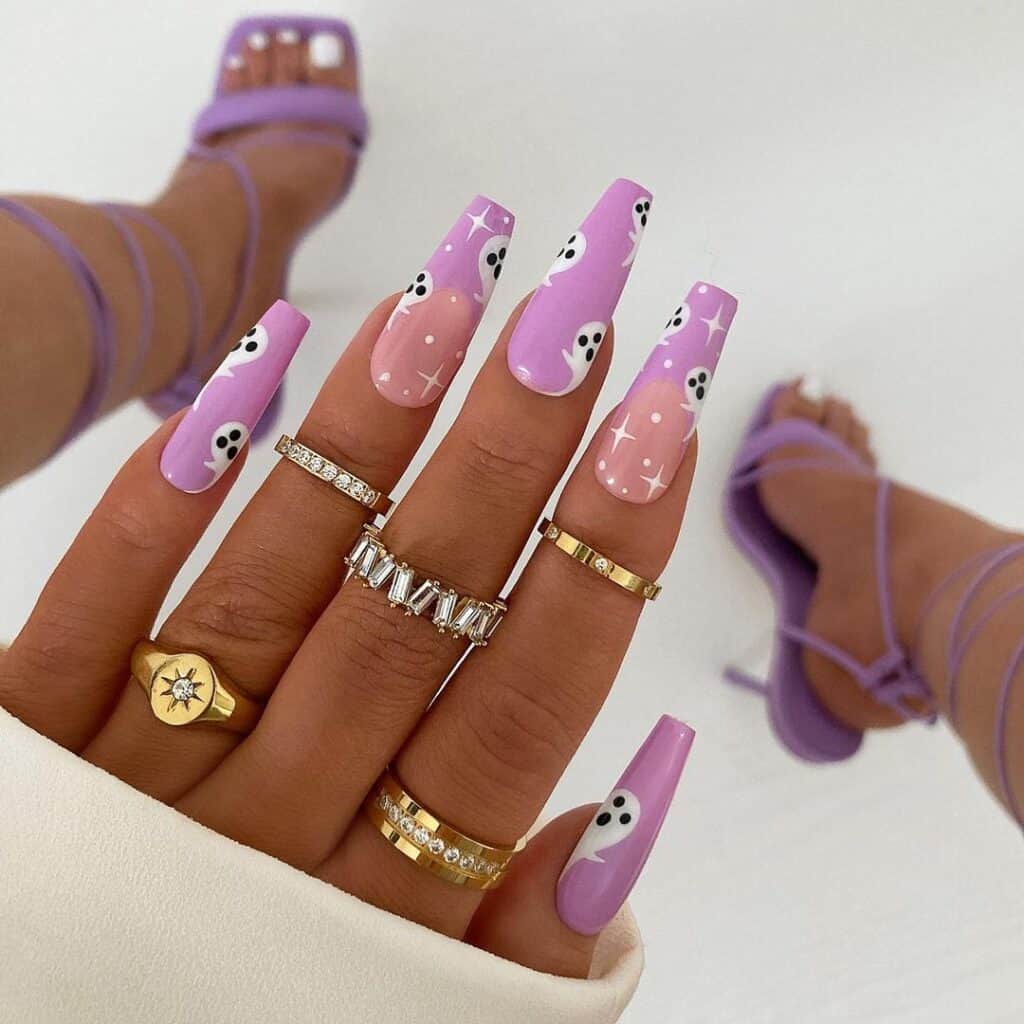 These are possibly the most charming and adorable nails I've ever seen. They're so light-hearted and purple.
I just need to emphasize the purple part because we rarely see Halloween nails featuring purple nail polish that actually pulls off the spooky vibe.
These ones do it in such a unique and cute style that I just know I'm going to have to try them out this year.
26. Halloween Nails Are Here
Rarely have I seen Halloween nails that look like they could belong to any season. They're easy-going, a little bit dreamy, and have ethereal vibes that are hardened with the edge of the full-colored nails.
It's interesting to see darker shades like grey and black mixed with the vibrant colors of the two accent nails, but it works and also just happens to make these some of the most gorgeous all-occasion nails this spooky season.
27. Spooky Halloween Nail Idea
These are the quintessential Spooky Halloween nails. They really have it all, and all you need to bring them to life is a nail file and black and orange polish.
The rest will take care of itself as you try out all of this year's top trends across your nails.
The result is, without fail, gorgeous.
28. Halloween Comic Nails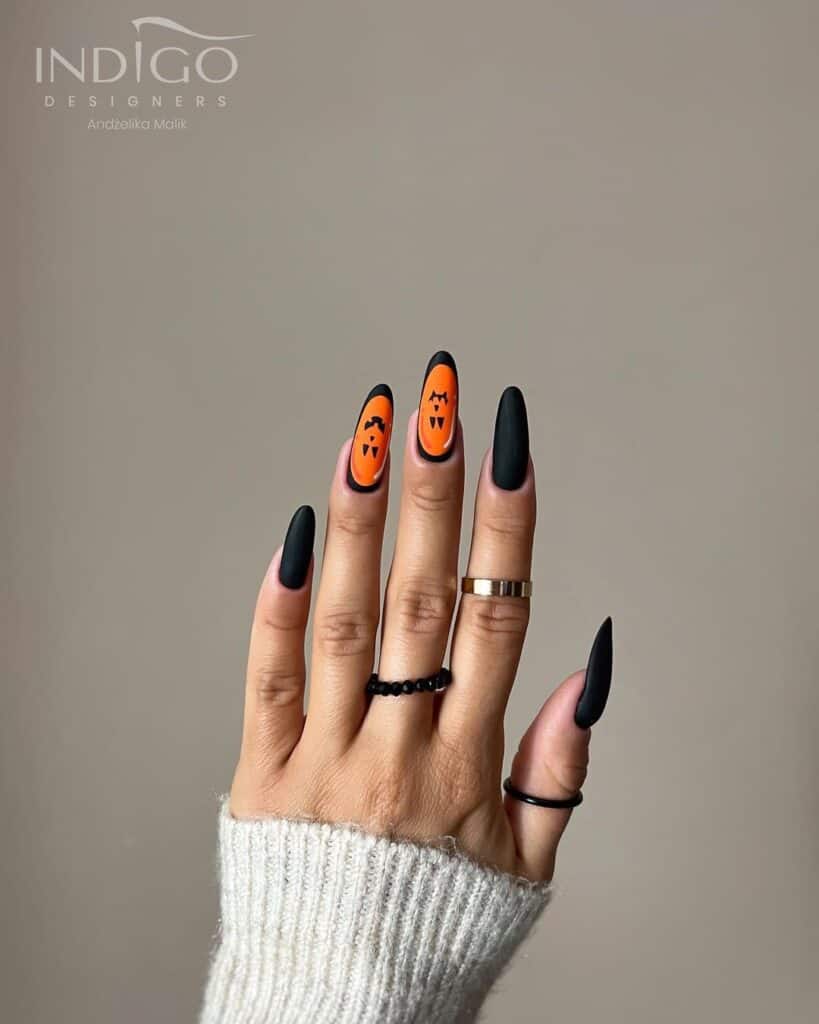 These nails take the negative space trend and fill it full of pumpkins. Really, consider it your traditional striking black manicure with two pumpkins peeping out.
There's really something quite causal and fun about the look, despite the dramatic length and shades of the nails, making it perfect for the gothic-chic call who still knows how to have fun.
29. Boo Halloween Nail Design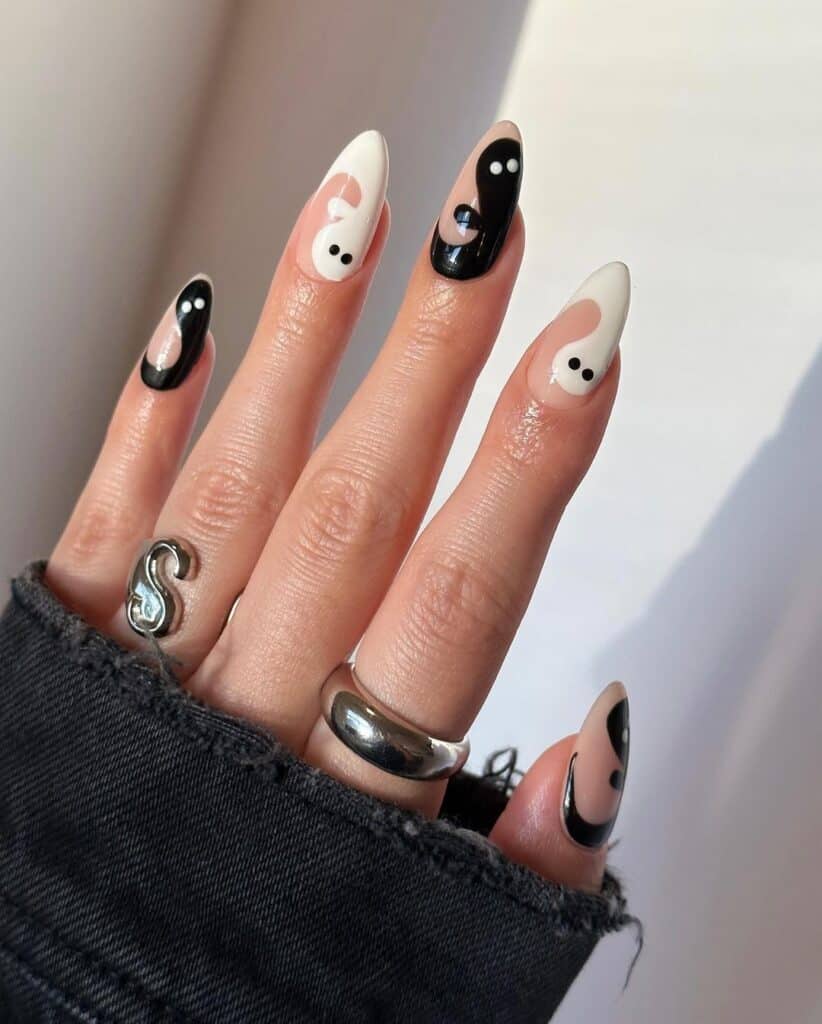 Excuse me, but how often do we see classic and retro Halloween nails that look entirely timeless?
I swear these nails could've come out of a black-and-white movie. They're giving Audrey Hepburn with their soft classiness and lowkey luxurious vibes.
But they're also quite funky and 70s at the same time, and I could go on, but you get the idea. They're Instagram-worthy, gorgeous, and classic.
That's all you need to know.
30. Mix and Match Nails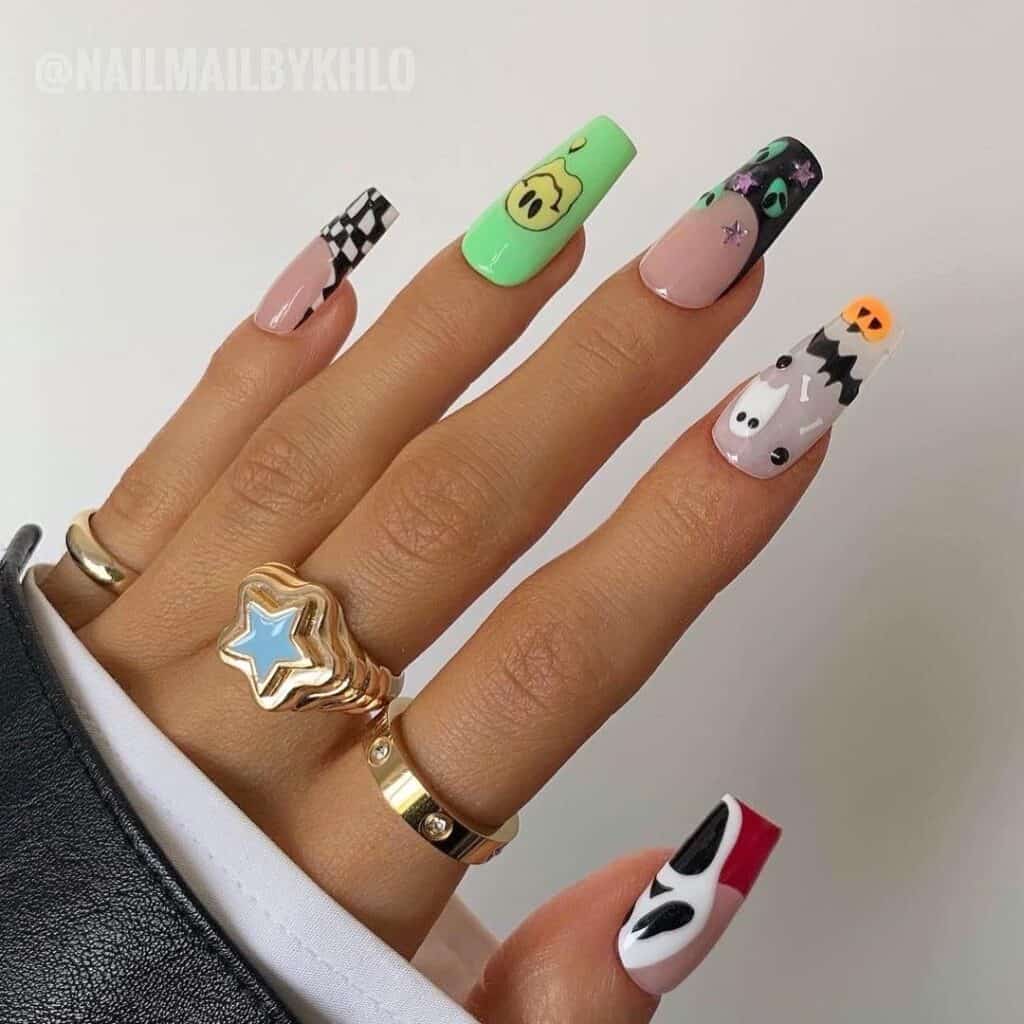 This luscious look just jumps off the nails. Seriously, it's like a Halloween-themed comic strip written across your nails and the absolute definition of funky fun.
So, you'll definitely want to try them out, but if you do, don't get a headache with all of the shades, details, and shaping unless you really want to flex your nail painting skills.
Instead, it's time to pop to the salon and walk out with the most wild and wonderful set of nails you've ever had.
31. Love to Hate Halloween Nails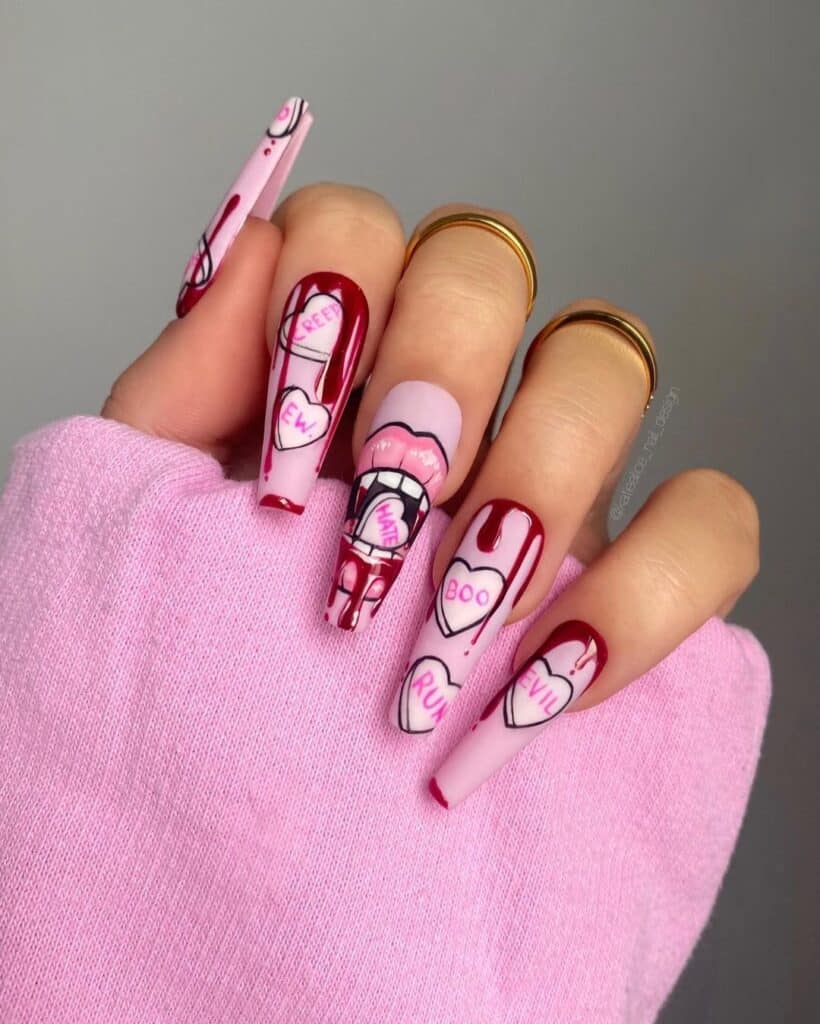 If you're feeling a little moody yet still cute as ever this Halloween, this is the manicure for you. It's full of attitude and personality, and need I say it?
Pink. It's pink from cuticle to tip, and that's all that really matters this year.
Thanks to Barbie, these nails will be the object of everyone's attention and desire, and you can bet everyone will copy the look from you next Halloween.
32. Bloody Ombre Nails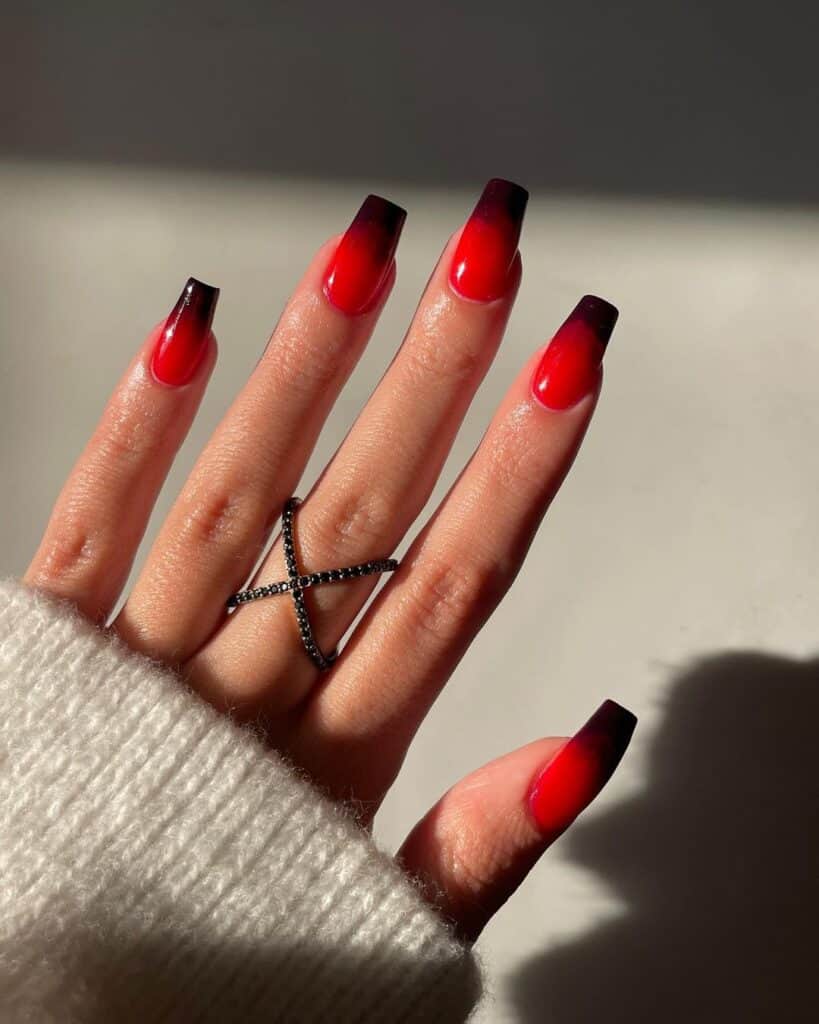 Halloween nail ideas don't always have to be loud and obvious; sometimes, they're subtle and gothic.
I love how somber and dark these nails are. The red polish is so deep and rich, mimicking blood, and fades mistily and mysteriously into the dark black polish.
For as fantastic as they look, their minimalism keeps them simple to recreate and the best friend of any outfit or accessories you choose to wear this Halloween time.
33. Bleeding Halloween Nail Idea
These dramatic nails show everyone that you're not to be messed with. The manicure is chic, sharp, and right on theme.
Plus, let's be real. It's so easy to recreate. All you have to do is file your nails into a slightly sharp shape before applying a clear undercoat.
Dab on some red nail polish and you and your fabulous fake blood nails are ready to take on Halloween in style.
34. Kitty Halloween Nails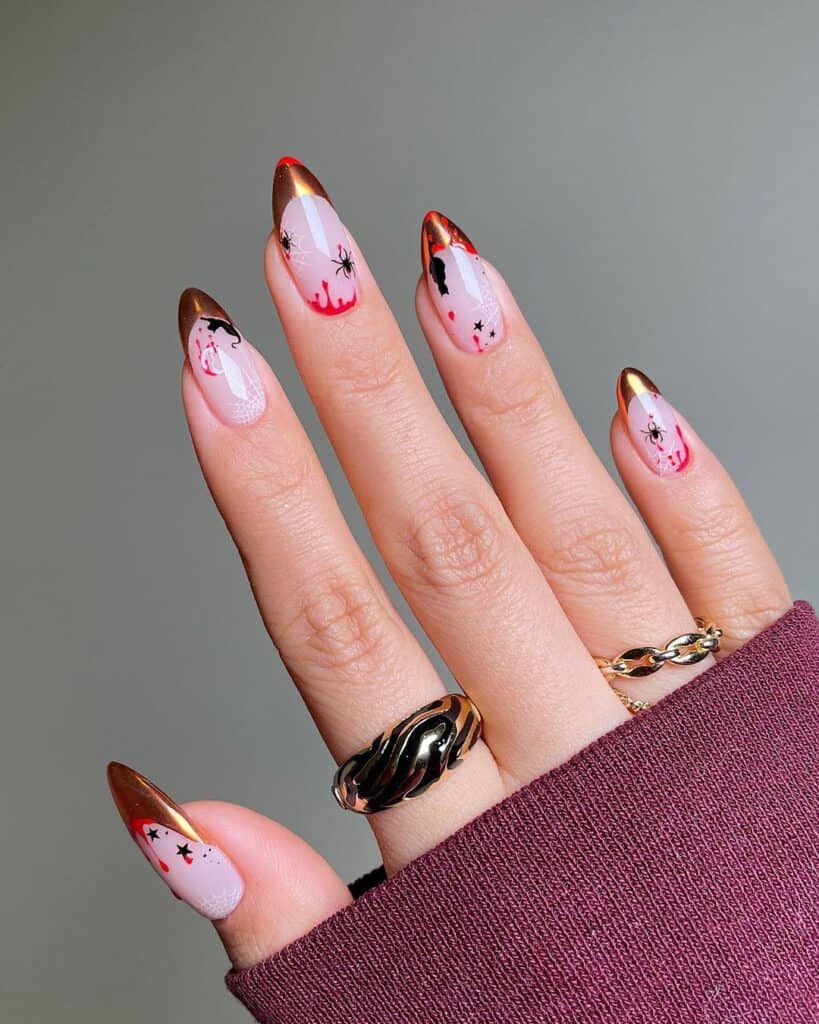 These nails are on fire, and I expect to become quite familiar with the look as it become more popular by the year.
It's the stunning blush base and metallic tips that really sell this look that's perfect for pretty much any Halloween occasion or vibe.
The fake blood effect and adorable spooky details really just make it.
35. Cute and Simple Halloween Nail Design
Spooky Halloween nails and Fall nails don't have to fall into separate categories.
In fact, I welcome the overlap, especially when it looks as gorgeous as this manicure.
Expect to see a lot of autumn vibes in Halloween looks this year with a soft edge, sparkly nail foil, pumpkins, and bucket fulls of orange. I, for one, am here for it.
36. Spooky Nails to Scream Halloween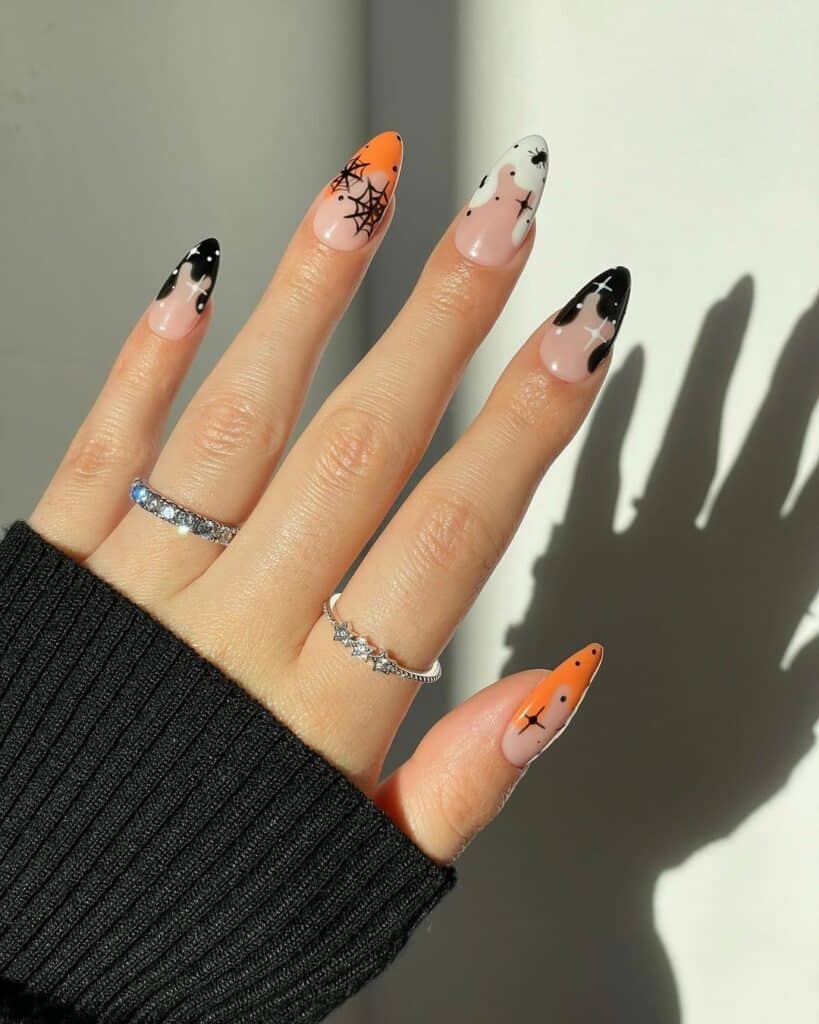 If you want everyone to know you're more than excited for Halloween but want to keep your fashionista cred, then these are the nails that'll only strengthen your style queen reputation.
You have all of the classic Halloween colors with those timeless and adorable spooky details on top of soft oval nails.
They are the IT girl nails, and I'm expecting to see loads of them on Instagram this year.
37. Blue Ghosty Nail Idea
Halloween nails don't get much more exciting than this. All of that blue honestly cleanses my soul and gives me life.
It's just so breathtaking. It's refreshing vibes all over with even a hint of Candyland glee thanks to the chunky stripes.
Of course, the pumpkin face is what gives these nails their spooky season flourish, so don't forget to add it in.
38. Black Poison Dropping Nails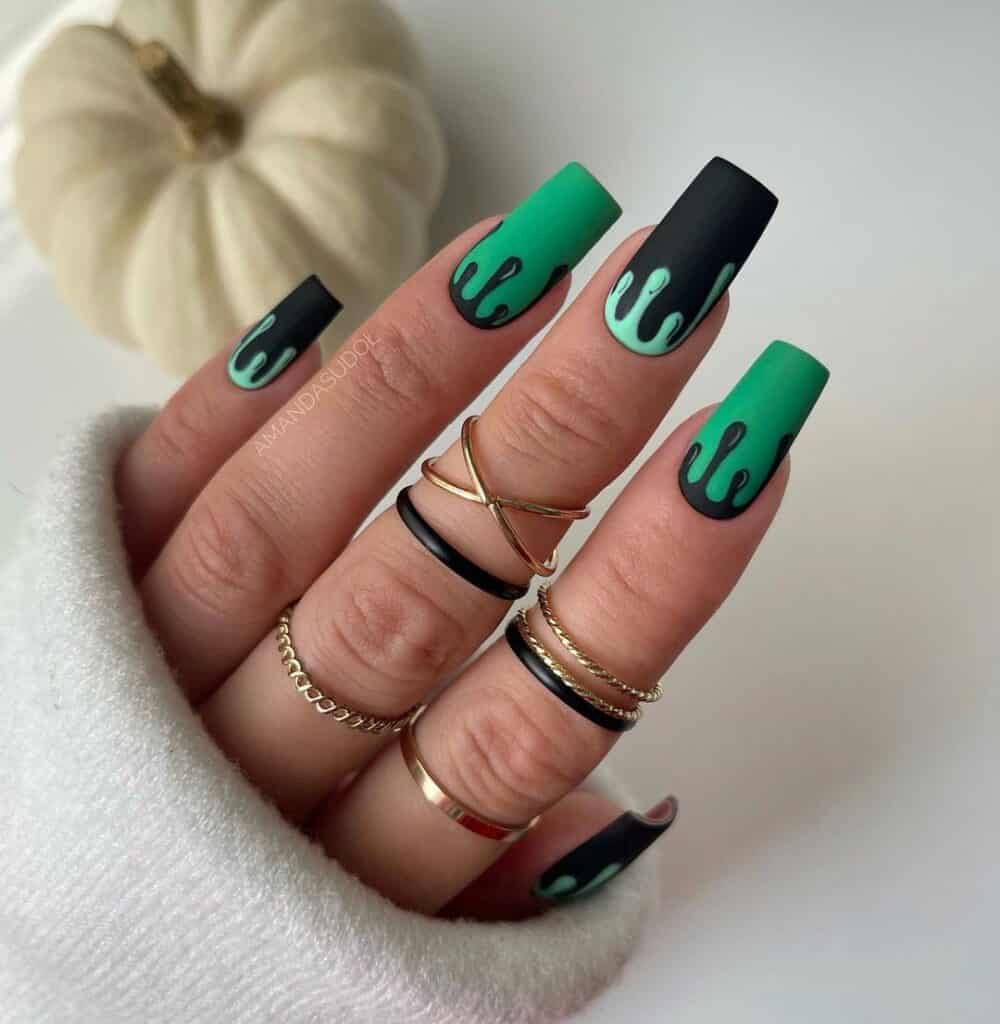 I am absolutely in awe of these nails. They are 100% cool girl nails, and I'm expecting to see a lot more of them in the future.
Gothic vibes meet a dystopian-chic edge that's being popularised on TikTok.
Mix that with timeless color clashing, and we have one of the prettiest black and green manicures of the year and surely years to come.
39. Los Barrios Nails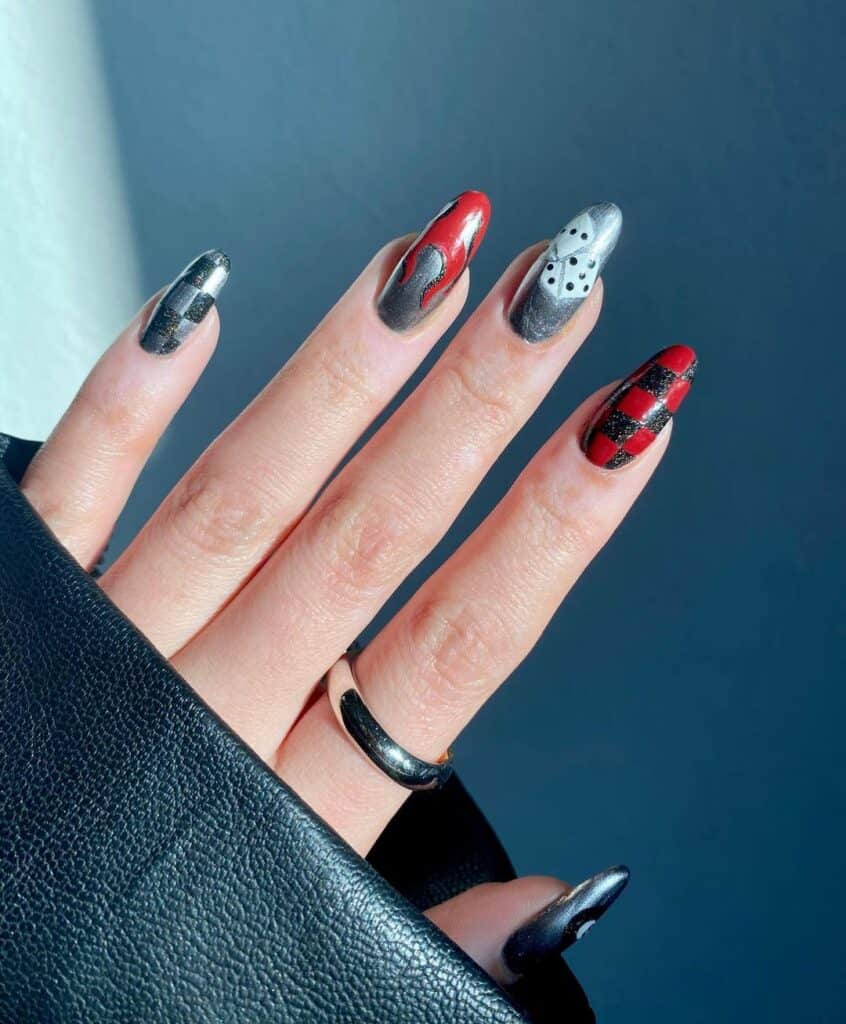 While these nails feature trendy chrome and plenty of fun patterns, I can't help but note that they're quite laid-back and easy-going.
There's something a little boyish-vogue about them as they teeter on the line between retro and futuristic.
I think it's the metallic sheen that's easily mastered with the right shades and nail shape.
40. Long Pink French Halloween Nails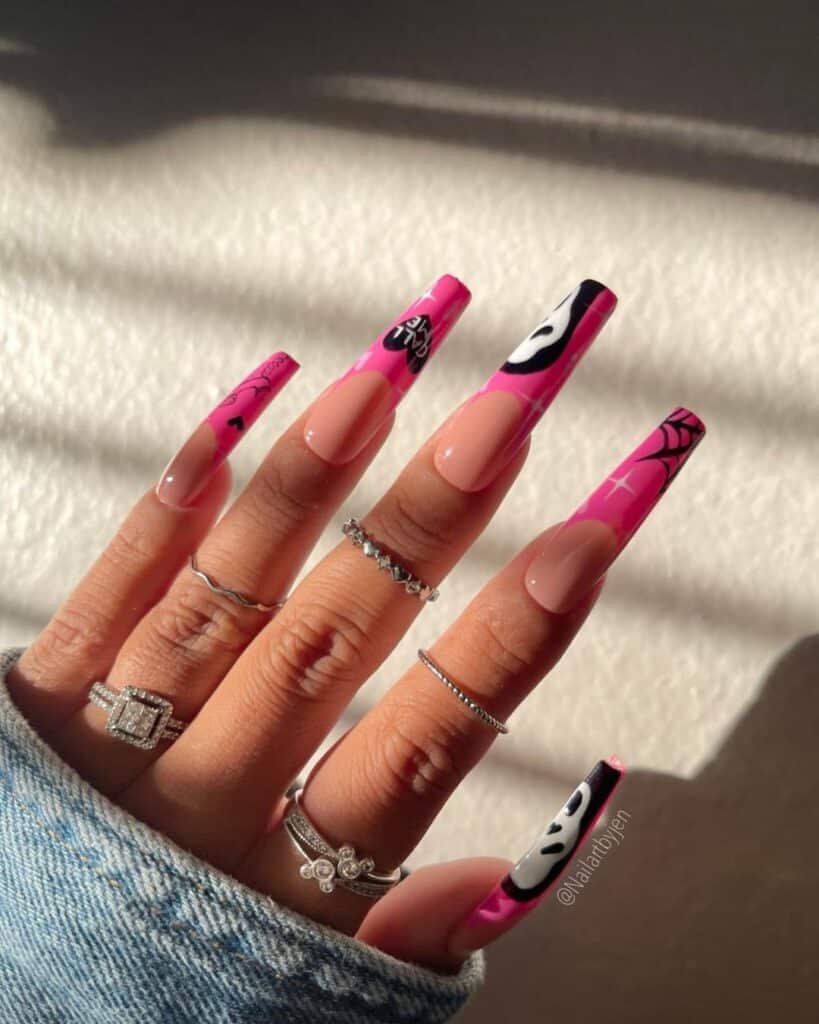 It's Barbie meets Halloween. If you're looking to be the center of attention and to be the IT girl of every single place you grace with your presence this year, then these are the diva nails that you should bring everywhere.
These are acrylic nails, so be sure to pop to the salon so that your nail tech can have the time of their lives bringing this stunning look to life.
41. Disney Spooky Halloween Nail Idea
Candy corn and Mickey Mouse ghosts? Sign me up. I usually love Halloween nails, but these make me more than obsessed.
They include those Fall tan neutrals with speckles of oranges and just the right amount of black and white to make these the quintessential Halloween nails.
It's all easy-going and warm with plenty of fun, and the length is just long enough to keep things dramatic and showy. I'm in love.
42. Czas Start Nails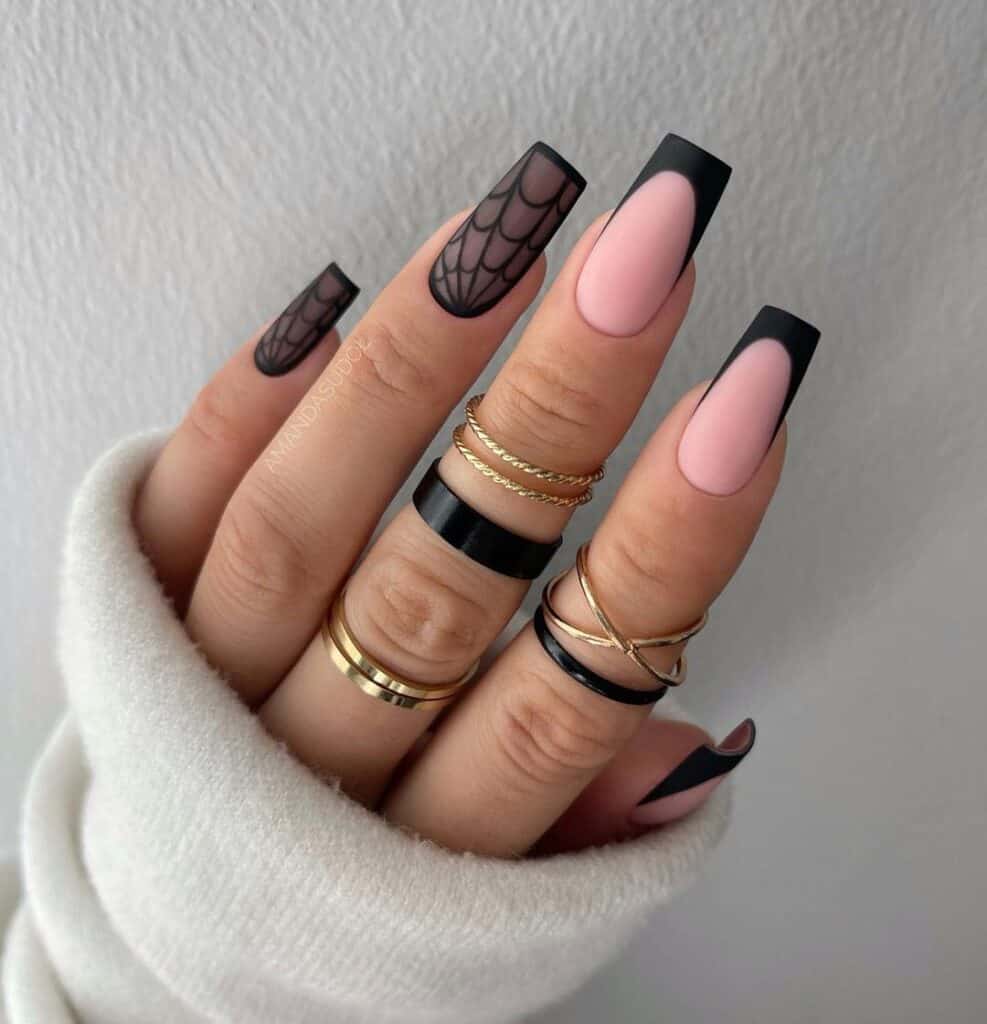 So you want to go all out without the effort. No problem, as it is your right. You can look entirely fabulous without having to break a sweat, and these nails are the answer.
They look so tricky, but really, it's just an overcoat natural nail, black tip, and spider web effect.
As you can see, this manicure is also the best friend of any and all rings, so if you're planning on showing off your bling, this is also your go-to look this Halloween.
43. Addams Family Nails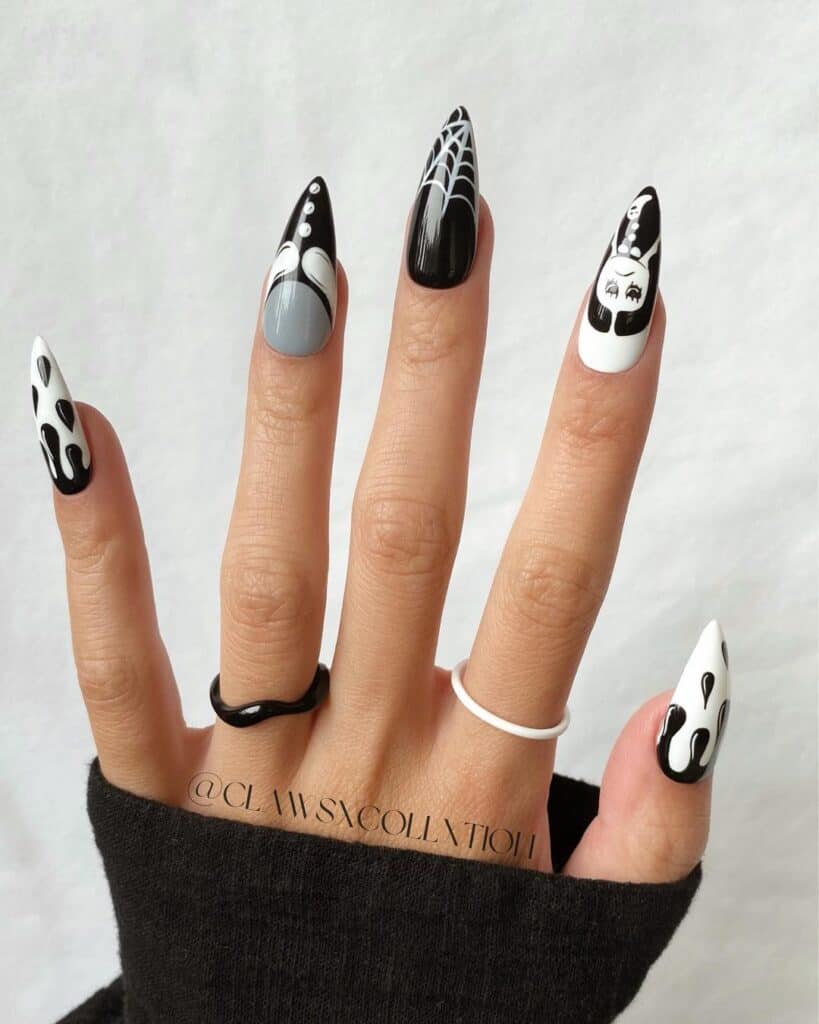 Hello, sheen and shine. This striking look is clearly making a comeback this year, and I'd put it down to the Wednesday Adams craze.
They're just the right amount of gothic and dark and a little bit retro, but that intense glossiness adds an invaluable futuristic appeal that really makes these nails special.
44. Pink Halloween Nail Design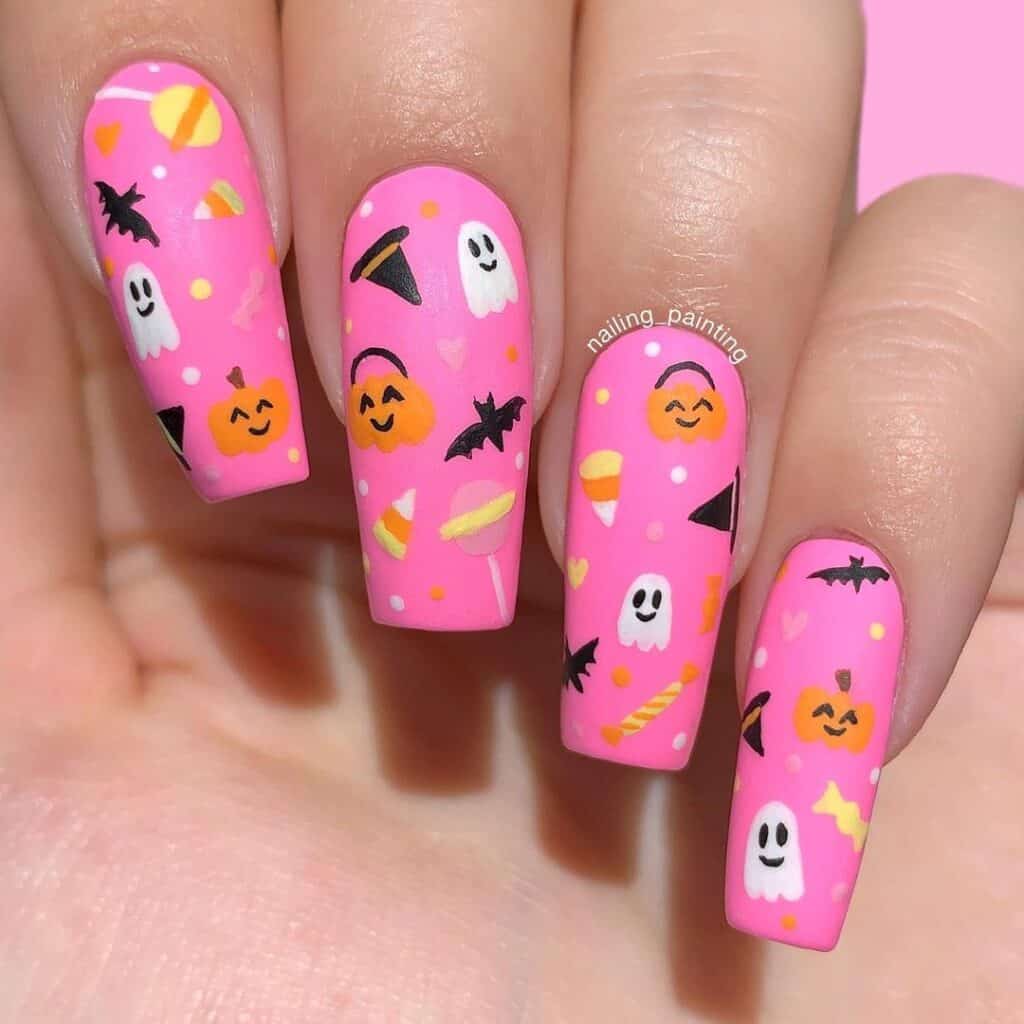 This is pure energy and excitement in Halloween nail form. Packed full of vibrant colors and charming nail art, there are details galore included in this manicure that really make it one-of-a-kind.
While the square nail shape isn't necessary, I can't help but notice how it adds a clean and neat shade that allows for such intricacy on top.
45. Spooky Szn Nails for Halloween
You've probably seen the Formula 1 fashion take hold of your social feeds this year, and here it is again, looking like its absolutely fabulously checkered self in French tip style.
Lay down a clear base beforehand, of course, and be sure to add the groovy-gorgeous purple patches with twinkly white stars sprinkled on top. It really is an otherworldly look.
46. Holographic Flames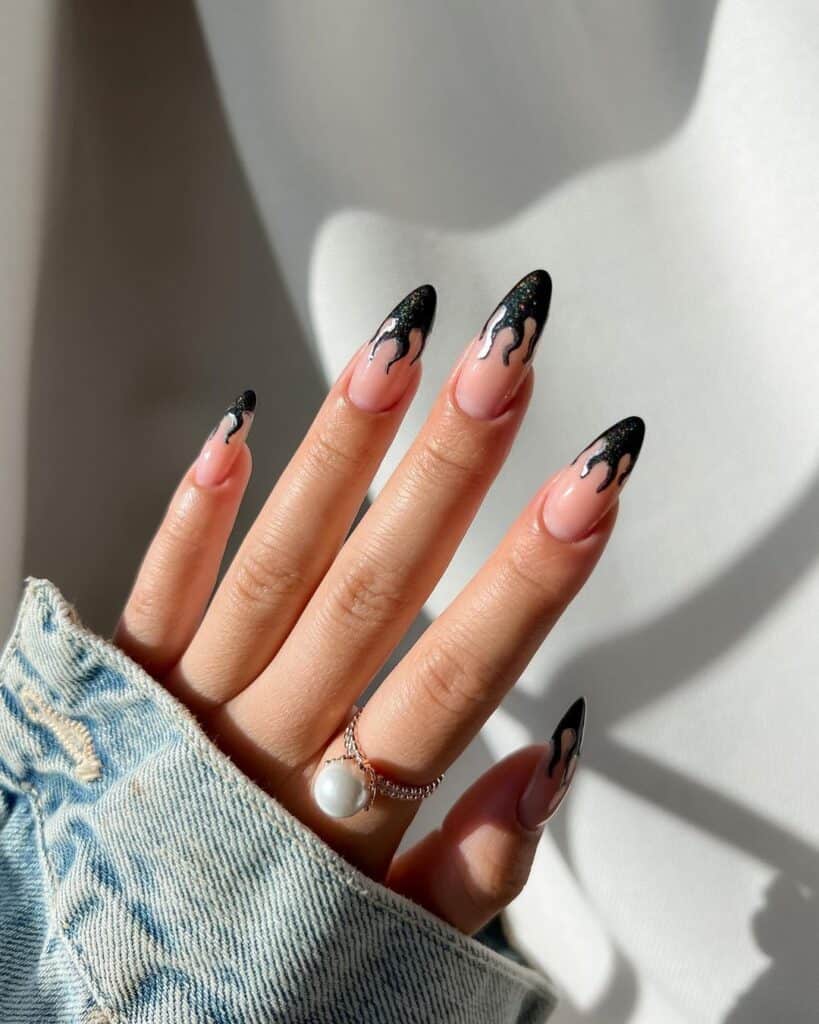 Don't let the name fool you; when it comes to unique Halloween nails, these are deceptively easy to DIY.
The key to making them work is to apply a clear base before going heavy-handed on the black nail polish for the gorgeously gooey tips.
Add that shimmer over the top using either shimmery nail polish or glitter, and then apply a clear top coat. It really is as simple as that and just as stunning.
47. Let's Get Spooky Nails
These nails are absolutely wild wonderful, and just scream Halloween, literally. Since there's a lot going on, I won't even get into how these nails are DIYed.
Instead, I think it's time you treat yourself to a trip to the salon to bag yourself the most dramatic and statement Halloween nails you've ever worn, enjoy.
48. Spooky Jack Skellington Halloween Nail Idea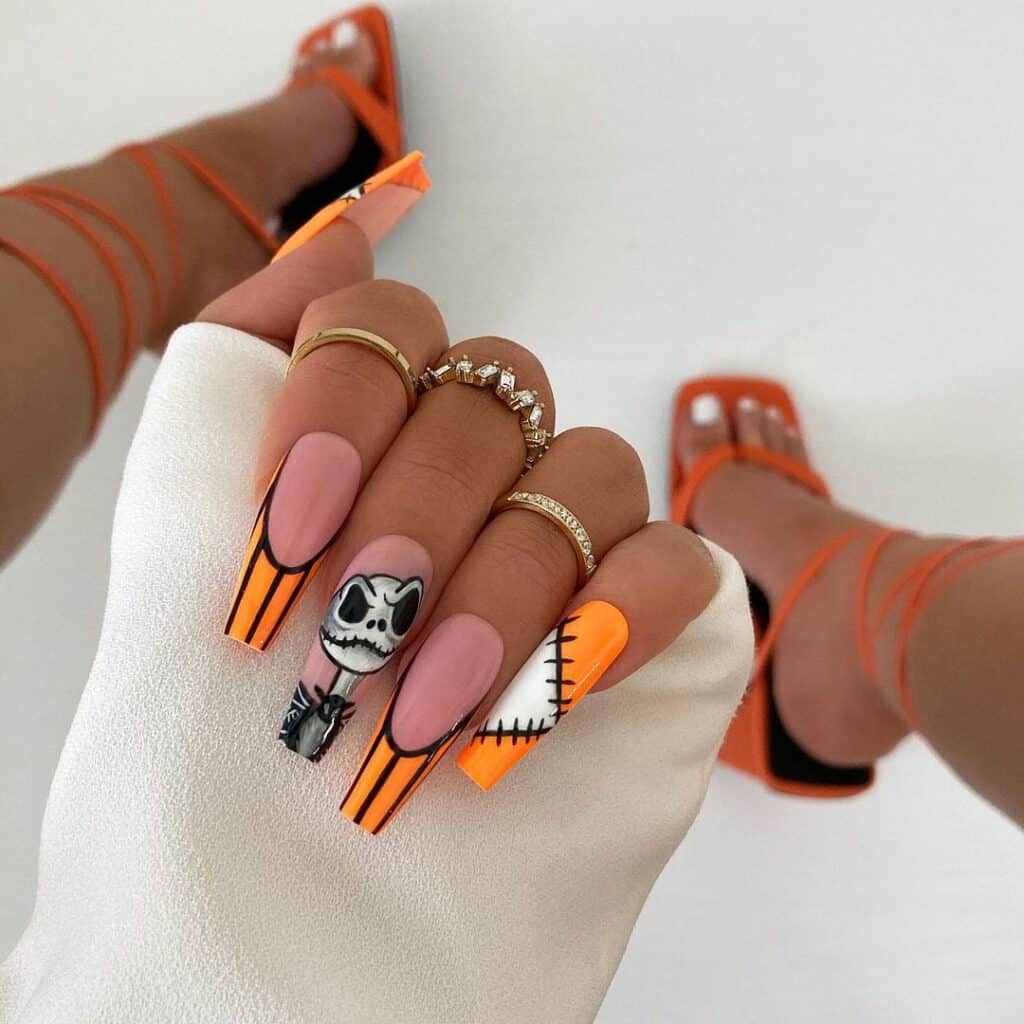 Halloween nail ideas aren't always on point or as striking as we want, but Jack Skeleton, orange stripes, and sensational stitching really make that issue a thing of the past.
49. Fire and Pitchfork Nails
These nails have a special place in my house for just how soft and subtly spooky they are. They don't need much to look absolutely fabulous, relying mainly on the bright red shade that has hints of orange tones that make it entirely striking.
In fact, it almost looks like neon red, so if you're struggling to replicate the varnish, keep an eye out for the neon section.
50. Just Some Spooky Pumpkins
How can Halloween nails exude autumn vibes and somehow look rustic-chic and cottagecore while still leaning into the spooky theme?
Here's how. A nail wizard must have come up with this design because they've achieved the impossible.
The result is irresistibly adorable, cute, and full of such soft, girly vibes that I really just can't get over them.
51. Stalker Nails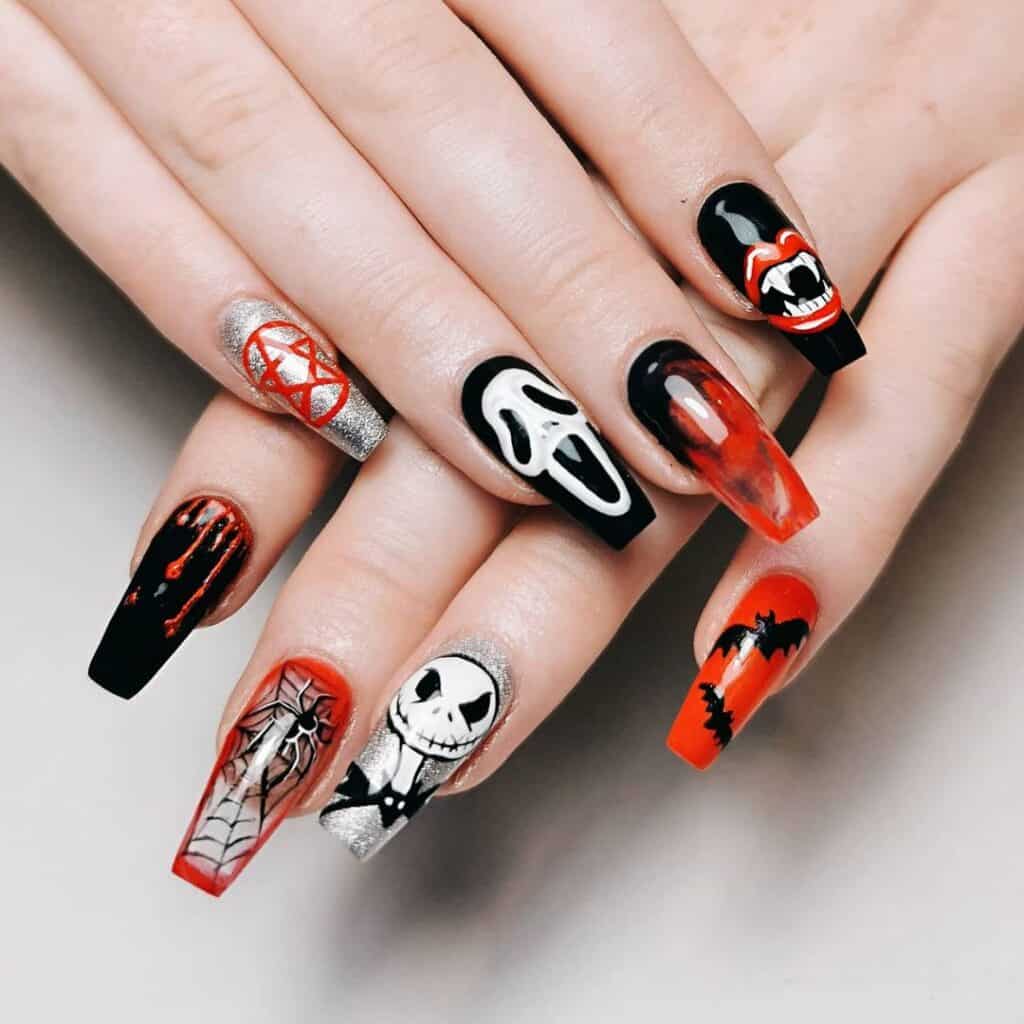 These are cool girl nails, defined. They cover every single quirky yet trendy design and add a few distinct features of their own.
The long shape really makes the whole look quite glamorous by adding a dramatic Instagram-ready twist.
These are definitely stick-on nails, as you can see from the clear design that just makes the nails look all the more experimental, mystifying, and otherworldly. In other words, a must-try manicure.
52. Love Zombie Nails
Think your nails are little too short or square to really get in on the Halloween nails fun this year?
Get those worries and doubts out of your head, girl. Here, we have one of the most Halloween looks on the list, and it looks so striking and perfect on shorter nails.
The secret behind this effect is keeping the lines thin and the shades loud.
53. Boo-tiful Frenchies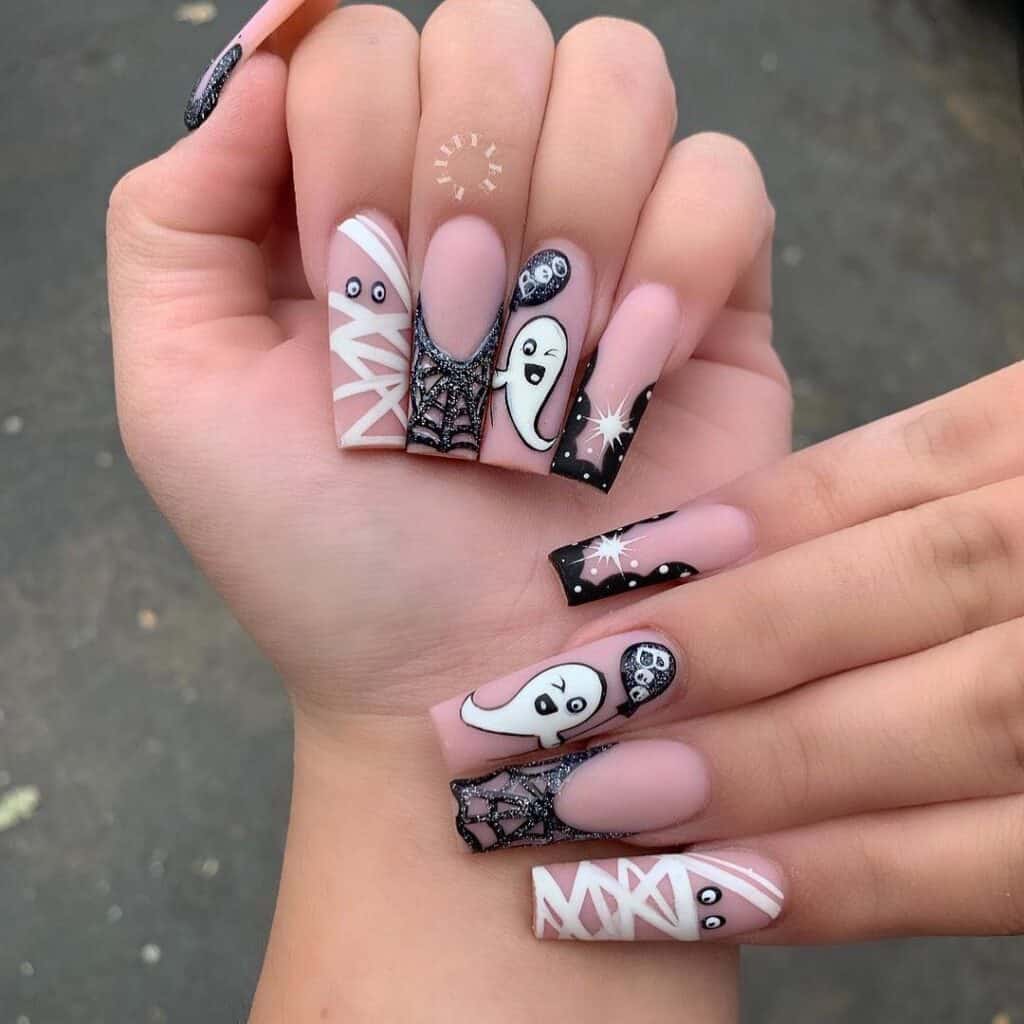 Just when you've think every possible version of the classic French tip, another gorgeous French manicure comes along and makes you fall in love all over again.
Firstly, I really have to point out that these beauties are 3D in some parts, but that just means you'll have to go a little heavy-handed on the polish.
So, while they're a work of art, they're completely achievable with a little focus and a lot of patience.
54. Time For Scary Movie Inspiration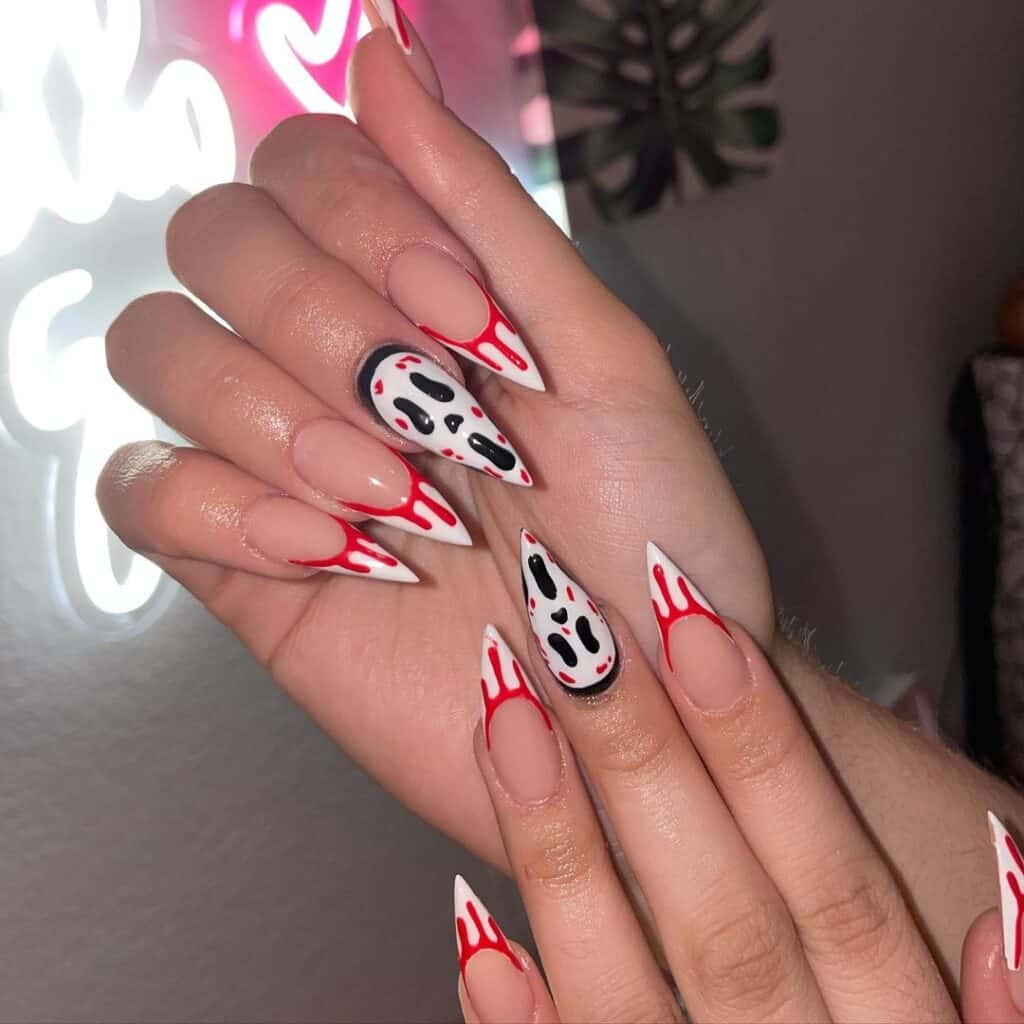 This is one for those sharp, nail-loving girlies out there. I see you, and I hear you.
Sometimes, you just want a little extra edge, and there's no time better than Halloween to get those gorgeous claws out.
Plus, while these nails look complicated, they're actually quite easy to DIY and only feature shades you're sure to already have in your nail polish collection.
55. Skulls and Cempasuchil For Day of the Dead
I love love love these nails. They're so 70s, which means they're already a winning manicure that will receive plenty of compliments.
Beyond that, they're so quirky, thanks to the skill designs.
So, if you want to have the most lively and vibrant nails this year, this is your no-brainer pick.
56. Scary Ghostface Nails
Halloween nail ideas can get pretty complicated that they lose beauty in the meantime. These nails maintain their intricacy, edge, and gorgeousness throughout.
I'm convinced that a fashionista genius put the look together because there's no other way you could include so many details and shades into one manicure and have it come out looking so effortlessly good.
57. Halloween But Make It Pink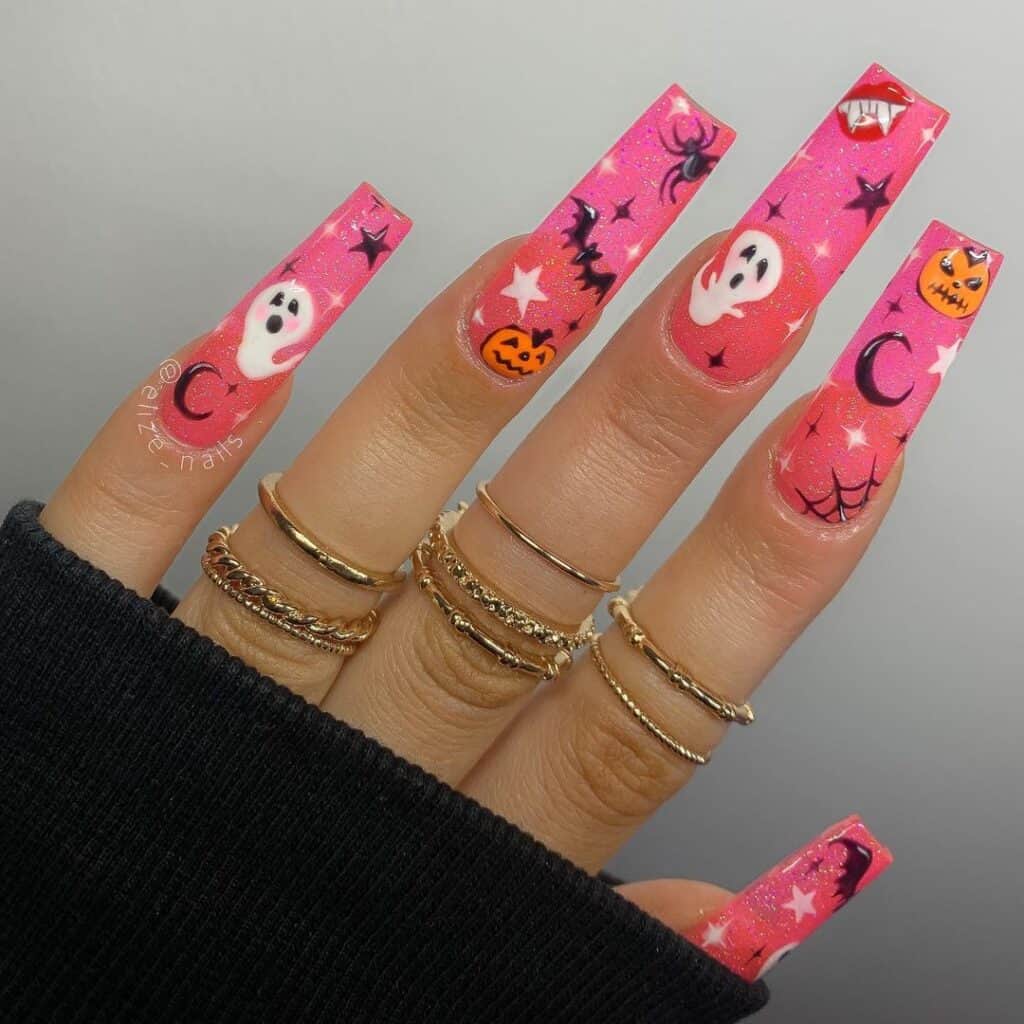 These are fantasy nails, pure and simple. They're the object of everyone's dreams and desires and are sure to win hearts all over.
Seriously, how do you take your eyes off such girly glory and gorgeousness? They're all bling, personality, and nails that Barbie would definitely wear at Halloween.
Take this fun set to the salon and fulfill your girlhood dreams with these fabulous nails.
58. Halloween Serie Events Nails
If Studio Ghibli did nails, this would be them. They're so dreamy and fantasy land, with cartoonish vibes written all over.
I just love the adorable cat and glitter-tipped nail. It's really just so imaginative and creative that I seem to spot something new every time I take a look at it.
I also just happen to fall a little bit more in love every time I see them, so beware, you might get hooked on these nails if you give them a try.
59. Love to Hate Pink Halloween Nails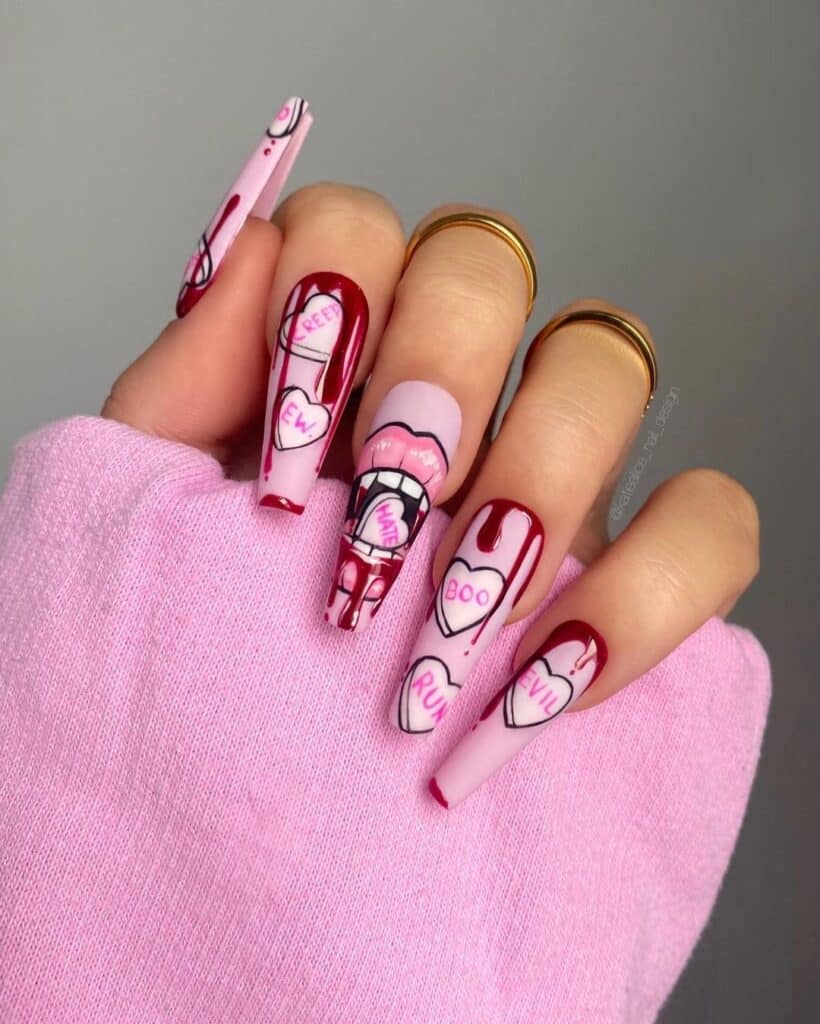 These nails are all girly attitudes with a little femme fatale mixed in. It's a combo that I've always been obsessed with, and I love seeing the fusion so frequently during the spooky season.
The longer the nail, the more dramatic, so don't put a limit on length with this manicure.
Think luscious and daring, and go eye-catching when picking your pink shades.
60.Pink Halloween Stitches Nail Design
When it comes to Halloween nails, there's always the worry that they'll clash with our ring outfits or just look a little too loud.
This manicure wipes all of those worries away with its lush pink shades, edge criss-cross stitched design, and gentle point.
Plus, aren't they a little bit Barbie? Who could say no to these nails?
These Were Spooky and Classy Halloween Nails and Halloween Nail Ideas To Recreate This Halloween